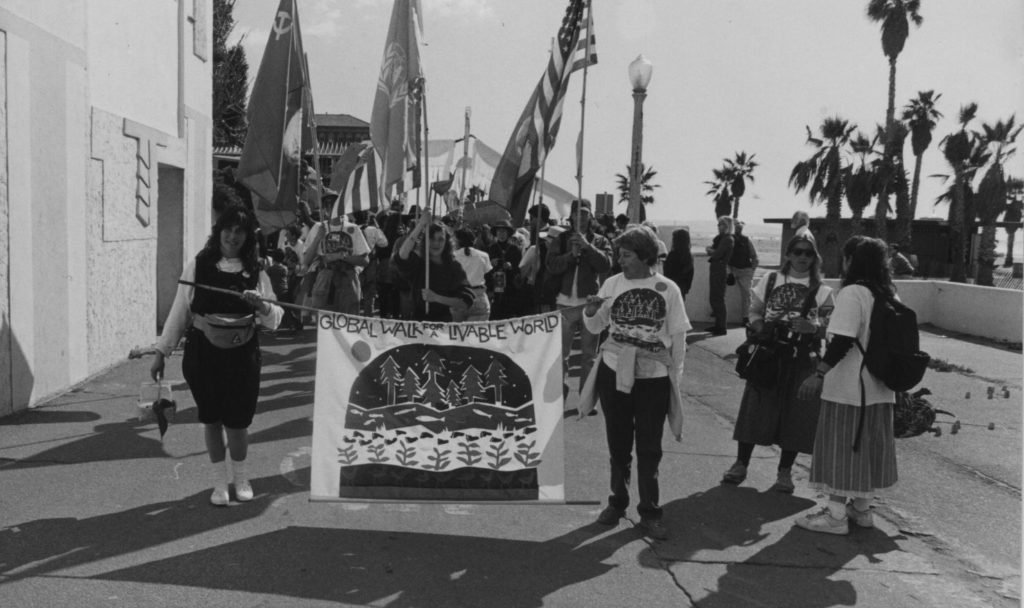 Twenty years ago today, the Global Walk for a Livable World began its trek across the country to raise awareness for the environment.  For the previous two weeks, we had been gathered in a field in Simi Valley, CA engaging in long meetings, doing some construction with the support vehicles, and getting to know each other.  Now it was time for the rubber soles to hit the road.
We had our opening ceremonies in a parking lot near Santa Monica pier.  A beautiful mural featuring a seascape with whales and dolphins was unveiled to the public in conjunction with the event.  Casey Kasem was the emcee, and the event featured speakers, music, and concluded with children painting along the bottom of mural and leaving painted handprints. 
Afterwards, we went to Santa Monica Beach to gather for the beginning of the Walk.  I stepped to the edge of the ocean, cupped my hands, and "baptized" myself with the cool Pacific water.  Then we lined up, ready to walk, and the beating of a prayer drum by Japanese Buddhist monks signaled the beginning of the Walk. 
We stopped at a church for another event.  I remember an elderly Japanese woman told her story of surviving the atomic bomb dropped on Hiroshima, and the actors John Ritter and Joe Spano both read poems. Then we continued, walking east through Santa Monica.  We walked seven miles that day, stopping in a church in West L.A. for the night.  We were dog-tired that evening, and wondered how we would manage the fifteen-mile days that would characterize most of the Walk. 
We gradually built up the miles in the coming days.  We walked nine miles to downtown L.A. on the second day, eleven miles to the nearby suburbs to the east on the third day (I think it was West Covina, but am not 100% certain), and San Dimas on the fourth day.  I believe we rested a day in Claremont. Then I remember contending with nasty smog as we walked through the Inland Empire to Fontana for one night, and then the next day we walked to San Bernardino, and walked to Redlands the day after that.  The metropolitan area began to give way to desert on the next day, and we camped out in the city park in the little town of Banning, CA. 
After Banning, we were in open desert, and would be for most of the next several weeks.  I remember a stop in Joshua Tree where the temperature plunged to 17 above with high winds, and I decided to brave the night in my tent and sleeping bag rather than accept the invitation to sleep indoors at a community center.  I also remember a stop in Twentynine Palms, where we camped at a desert oasis.  Afterwards, we stayed the nights in open desert all the way to the Arizona border as we headed towards Phoenix…