18 Sharaf 166 B.E. (Baha'i Calendar)
Soundtrack in my head:  Dawnbreaker Collective "Son of Being"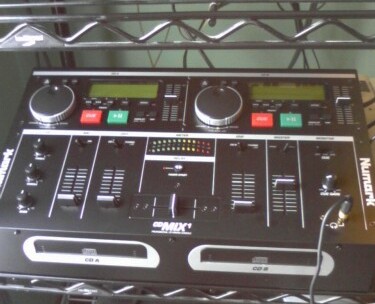 I finally broke down and bought a CD mixer for DJ'ing.
I've been DJ'ing now for roughly three years.  Actually I didn't even realize I'd been doing it that long until I looked up an old journal entry from March 2007 that talked about it.  For most of those years, I really wasn't sure where DJ'ing fit in my life.  I thought it was neat that I was doing it.  It was a nice thing, and kind of a "cool" thing to talk about.  And, about two years ago, I began to think about purchasing my own CD mixer. But I wasn't always enjoying DJ'ing.  
The dance floor tests you.  Being able to tune in with the dancers and anticipate what they might be looking for next is a tough thing.  I would have those times when the music takes over and precisely the right songs select themselves, and it's an awesome feeling.  Then there are those times when it seems like nothing in my bag of tricks is working and the dance floor is empty.  
Furthermore, I'd often want to just veg out after a long week of work, and our Friday night events were often the last thing I wanted to do.  Sometimes I would dread DJ'ing, but more often than not, that feeling would change once I actually got to the Madtown Barefoot Boogie event.  I do usually feel energized after DJ'ing.  
Last summer, I felt I'd reached a point where I needed to either get serious about my DJ'ing or get out. I wasn't quite sure where I needed to go.  In many ways, DJ'ing is no different that playing any other musical instrument.  I knew that commitment to the craft meant hours of carefully listening to music and selecting new music, and practicing.
But in early December, I decided that I indeed wanted to take this craft seriously and put energy into it. Part of my motivation for changing the name of this blog back to "The Different Drummer Soundtrack," was that I realized that music was as an important part of my self-expression as writing.  And the inspiration came to me to try to integrate them more, which is part of the reason why "The Different Drummer Soundtrack" is now my DJ name as well.  
The more I think about it, the more that it really makes sense.  As an eleven-year old, I would ride my bike on Saturday mornings to Little's Record Store on Lake Street in Oak Park, IL, and spend my allowance on a 45 rpm single.  At the age of fifteen, the musical acts I liked–such as Depeche Mode, The Cure, Fun Boy Three, Split Enz, and The English Beat–could be seen on MTV but weren't being played on mainstream radio. So I borrowed the cassette player my mom used for her graduate school lectures, put it next to the TV speaker, made everyone in the TV room be quiet, and pressed "record" when one of my favorite songs came on.  In the late 80's and early 90's, I discovered the radio shows on independent radio stations that would play the songs I liked, and I would frequently listen on my boom box with my finger near the "record" button. I created over 30 tapes that way.  A few years ago, I converted them to MP3s, and now have them on CD and my MP3 player.  And now I have several CD towers on one of my dressers looking like the skyline of some major city.  In short, collecting music has been a big part of my life, and it's only natural that I share it, just as I share my writing on my blog after years of writing for myself.
The CD mixer console I got is a Numark CDMIX-1.  It's the same type of mixer that we use at the Madtown Barefoot Boogie.  It's not much more expensive than a CD player one would get for a stereo system, and in fact, I have it plugged into my stereo system.  Many professionals use it and like it for its portability.  Now I can have actual practice DJ sessions, and test whether something sounds good to me before testing it on the dance floor.  Which only makes sense–it is, after all, a musical instrument.  Also, I have received a few inquries from people interested in having me DJ at other events besides the Barefoot Boogie, and this will help me do that if I want to.
Even when I decided to be serious about my DJ'ing, I was still on the fence about buying the mixer.  The final tipping point for me was the extra cash I was able to earn from working overtime most of December.  Even then, I felt a little guilty about opening the box with the mixer when it arrived earlier this week.  I consider myself a frugal person, and found myself wondering if this was a little excessive.  But I'm glad I have it, and am grateful to have the opportunity to further develop my skills as a DJ.