I'm not on Facebook very often nowadays, but one day last spring, I noticed that an old Union Cab friend working for Tone Madison had invited me to a joint fundraiser for their organization and Communication Madison. It was a vintage vinyl and CD sale. I didn't think too much about it until I saw something I didn't think I'd see again in 2023—the sign "Masks required indoors" at Communication's space. I immediately thought, "Who is Communication Madison and why have I not heard of them?!" So I went to their fundraiser in June and then checked out one of their performances in August. The Communication Madison mask requirement was not "just a suggestion" as I'd seen in other places, (cough, cough, Amtrak around Christmas 2021). Communication Madison is the real deal.
Who is Communication Madison?
Communication opened in May 2018 as an all-ages and substance-free arts and music venue in the space of a former window treatment store and warehouse at 2645 Milwaukee Street in Madison. The organization describes its mission as "cultivating stronger bonds throughout the creative community in and beyond Madison. We are committed to engaging in antiracist work, mutual aid, and equitable compensation for artists and musicians." They are dedicated to promoting artists who might not otherwise have access, particularly those artists in marginalized communities.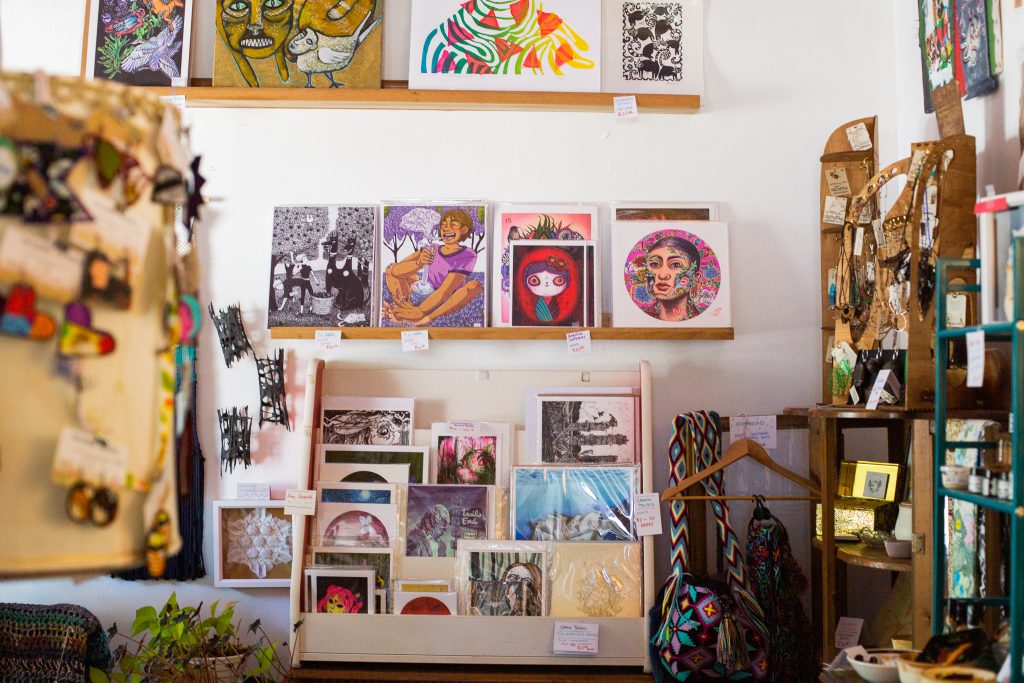 The front of the building is a retail space where they sell items made by over 80 local artists at a wide range of prices. Immediately behind the retail space is a small music space with a stage. They book live performers from all over. Behind that, the door opens into a house whose space is used to support art workshops and maker events. They have also created a print collective with a risograph machine for artists to use. They have engaged in exhibitions and "artists' nights" in the past but they are changing their efforts to help provide education and support for artists figuring how to promote themselves
Most importantly, every event on their website has the following statement: "*MASKS WILL BE REQUIRED FOR ALL ATTENDEES*." And they mean it.
Evolution of the Communication Madison mask requirement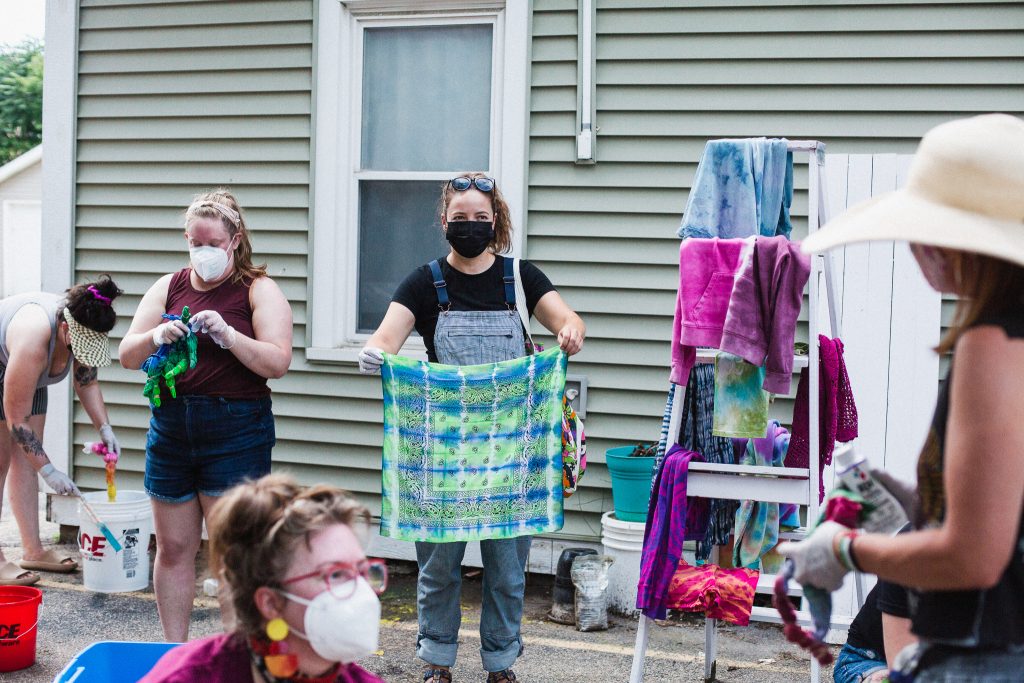 Jennifer Bastian, the director of Communication Madison talked about how the Communication Madison mask requirement evolved. She said that programming at Communication stopped in March 2020 when the pandemic arrived.. She said that they didn't feel comfortable opening up again until May 2021. The mask mandate came about because "we are always trying to operate from our living mission and making it a safer space." They determined that they needed to continue the mask required policy "until it feels like we are no longer putting the most vulnerable people in our community at risk" by going mask-free. Bastian said that such a day has not yet arrived.
Sticking to principles and the challenges that come with it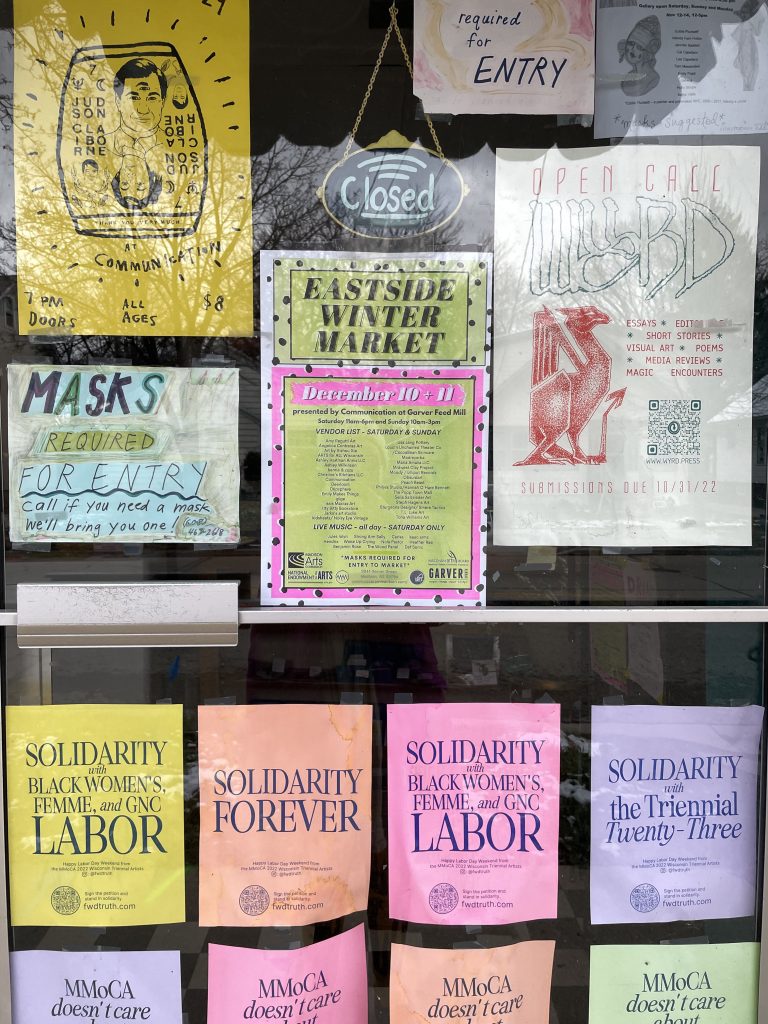 Bastian said, "We've gone back and forth about this in our organization," in talking about what the safest policies were, both in terms of masking and whether to do events at all. "These powers that be, there's no guidance at the federal, state or local government. It's on small business owners."
In regards to the process, Bastian said, "It has forced us to have really challenging conversations as an organization and board of directors," about meeting the needs of the most vulnerable. "I don't think every organization and music venue is having those conversations. It is something extra that we are doing and that is important to us. We don't all agree all the time but it is something that feels important to us."
Bastian said the mask requirement "doesn't change the organization as a whole philosophically. But it does change how we make our local revenue. A lot of people aren't coming out to small low-capacity venues to wear a mask and not drink alcohol. We had to consider how we would make our money, stay open, and continue to serve the community. That's the part that had to change." She said that she doesn't see any time in the near future where they will discontinue the mask policy.
Getting musicians on board
The mask policy even applies to musicians when they aren't performing. I went to Communication Madison the night that a tuba player from Chicago, a band from Kalamazoo, and a local band all performed. All of the musicians were compliant with the mask requirement. It appeared that the drummers from each of the bands were trying to test the organization's boundaries on that. But they ended up complying. Several members of the band even kept their masks on while performing. Communication Madison's mask requirement is not going to bend.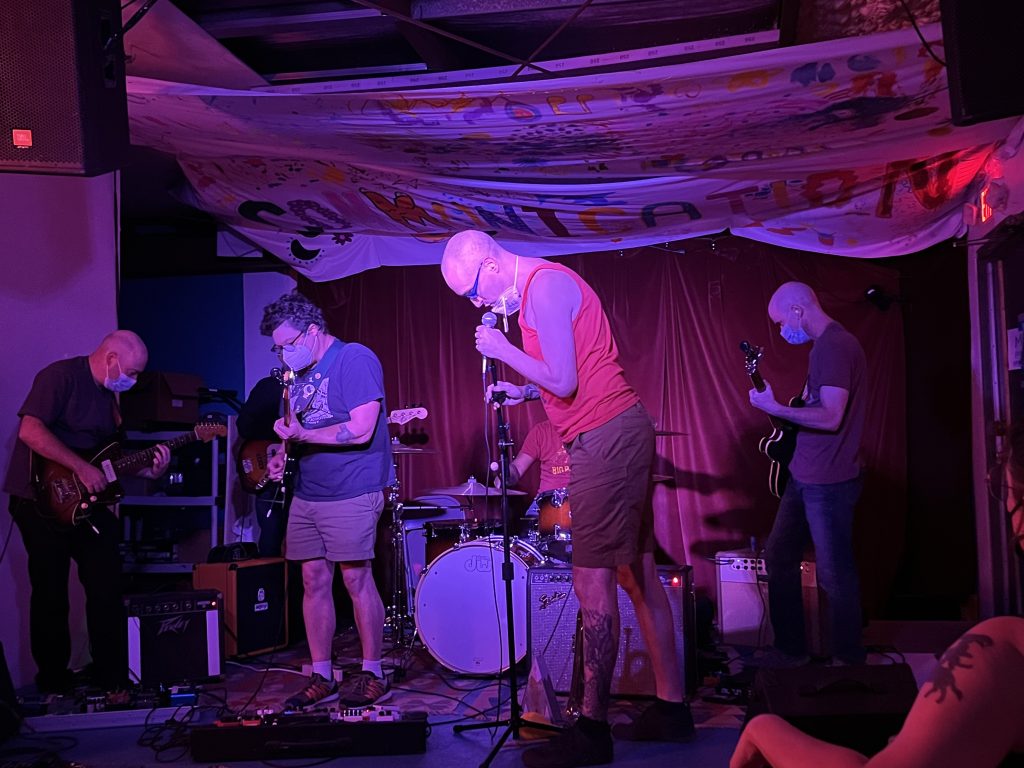 Bastian said, "We try to set expectations [with Communication Madison's mask requirement] right away with the musicians when they book. Musicians self-select themselves." She said that she doesn't judge people if they choose not to book because of the policy. "We do really appreciate it when performers read the policy and enthusiastically say yes." She said that Communication Madison tries to enforce their policy even with events off-site. "We seem to be the only holiday market in town still requiring masks."
The accommodation meant the world to me. I love live music, and I used to DJ. When I think about relaxing and enjoying myself, a live music or DJ performance is precisely what I think of. And that night in August was the first time since in nearly four years that I'd seen a live performance. I thoroughly enjoyed myself.
Many more reasons to support Communication Madison
There are many other great reasons to support Communication Madison besides their mask policy. Having a sober and substance-free space is important for many people. I know this—the venue I used to DJ at was substance-free. Venues that serve alcohol are inaccessible for many people recovering from addiction. A substance-free space also becomes accessible to families with children, as well as anyone else under 21. Bastian said that not having to worry about incidents stemming from alcohol use is also a plus.
Communication is supportive of the local grassroots artistic community in a way that other arts institutions don't. Two of the most prominent arts institutions in Madison, the Overture Center and the Madison Museum of Contemporary Art, are, frankly, elitist institutions established by some of the most wealthy people in the Madison area. Communication fills a need for more grassroots based and inclusive institutions. Communication also backed a community boycott of MmoCA after serious mistreatment of artists from marginalized communities at the museum's 2022 Wisconsin Triennial Exhibition. The arts nonprofit organized an alternative Artists' Night as part of the community response.
Communication Madison will be holding its Fifth Anniversary Fundraiser on Friday, October 13th from 5:30-10 pm. Bastian said that this event would be a good way to sample what Communication has to offer the public. The event will include musical performances by The Five Mod Four and Gentle Brontosaurus, interactive art activities, video projections and a silent auction. The location will not be at Communication itself but at the Arts + Literature Laboratory located 111 S. Livington Street, Suite 100, in Madison. And even though the event is not at Communication Madison's space, the poster still says "Masks and vax required."
So there are many good reasons to support Communication Madison. Being one of the few Madison businesses that still has a mask requirement is just one the reasons. As for me, I felt joy driving home that night from the first live music performance I'd attended in nearly four years. Thanks to Communication's mask requirement, live music, a big part of my life that the pandemic had withheld from me, had now returned.