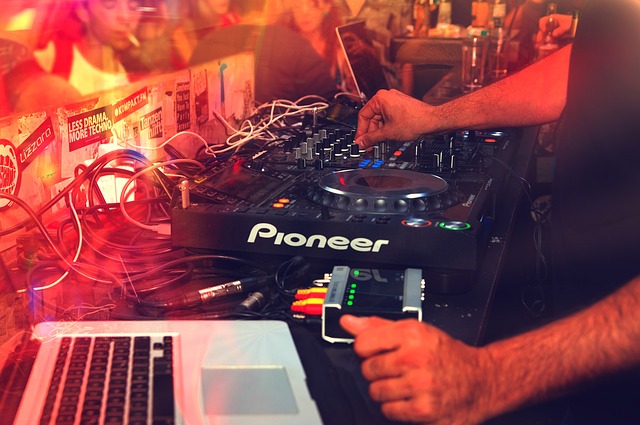 Friday night I make my debut in the DJ booth at the Madtown Barefoot Boogie.
A housemate of mine started this once per month event (soon to be twice a month) after being involved with similar events on the East Coast. The event is hard to describe, but in the most basic sense it is a substance-free, child-friendly dance environment.
But it's more than that. I think when comparing dance clubs and dance environments, it's all about the vibe on the dance floor. Dance clubs do many things to help create a certain vibe through their selection of DJ's and music as well as lighting, decoration and other things.
I would describe the vibe we try to create at the Barefoot Boogie as being communal and non-judgmental. There is pretty much total freedom as to how people can choose to dance. Some will dance like they might in any club, while others try to dance in a more unique and self-expressive way. There are a number people at the Boogie who are into Contact Improvisation, where people move in and out of contact with each other while dancing, rolling, falling, etc.  There is also a wider diversity of ages than you'd find at most clubs.  There is a lot of diversity in the music but it is mostly quite modern–there is nothing retro about this dance environment.
We also create a communal vibe by having people sit in a circle in the middle of the event and introduce themselves and have community announcements and sharing. This is followed by a brief circle dance that starts the second half of the event. I think I began to get a sense of what the event is about after observing a two-year old on the dance floor really start getting into the music and the dancing.
I first got involved in this because I was exposed to a similar event, Dance Friday, in the Boston area when a friend took me there a number of years ago. Then one day my housemate, whose room is across the hall from mine, asked me if I would be interested in training to be a DJ.  Apparently, he'd heard the music I was playing and thought it might mesh well with the event. So, for the last several months, I've been making copies of my CD's and practicing with the music mixer.
It's funny. I have always had a musical streak in me. I  took piano lessons when I was young and developed perfect pitch (though that's not reflected in my singing voice). But while I showed some talent, I dropped out because I just wasn't getting into it anymore. However, I've been an obsessive collector of a wide variety of music, and maybe in this lifetime, this is how I'm meant to express myself musically. Who knows?
It will probably take some time for me to get my bearings as a DJ with the event, but it should be a lot of fun. I will be spinning a mix of trip-hop, r &b, downtempo, acid jazz, reggae and world beat. For you interested Madison folks, the event is Friday, February 24 from 7:30 to 11 p.m. at the Tai Chi Center at 301 S. Bedford Street, just north of North Shore Drive. It's a beautiful location with great views. Donation is $4-10, and the doors close at 9:30 p.m., which is probably when I will start DJ'ing. Hope to see you there!