14 Masa'il 166 B.E. (Baha'i Calendar)
Soundtrack in my head:  The Pretenders, "2000 Miles"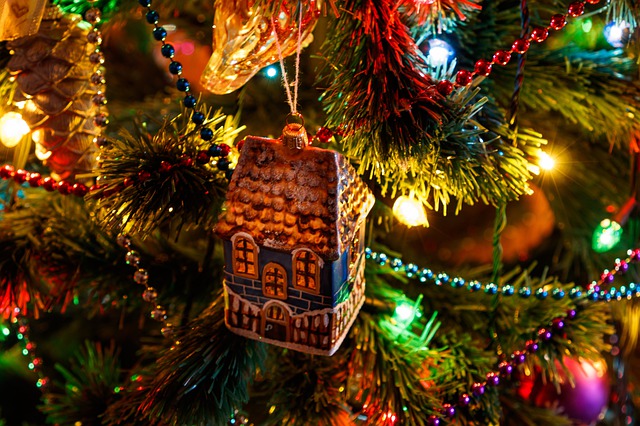 Tomorrow I will have lived in co-op houses for seven years.  I feel at home with this lifestyle. The day I moved into my first co-op house was a turning point in my life and  I have no doubt that my life is the richer for it.  Nevertheless, there are aspects of co-op homelife that I sometimes find a little lacking.
This may sound nit-picky, but for years it has bothered me that co-op life has often left little room for a Christmas tree.  I think it's because the act of decorating a Christmas tree was a big family tradition for me when I was growing up.  Since I'd like to be able to consider my co-op housemates as being  somewhat like family, I've always had the great desire to decorate for Christmas with them, even though I don't fit most people's definition of a Christian. 
The reasons for my the lack of interest was understandable—my old-co-op consisted largely of students who would usually leave town for Christmas.  As such, there was little interest in decorating a home if they weren't going to spend Christmas there.  Nevertheless, I would try to pique interest among my housemates.  Most of the time, though, I ended up hanging some lights by myself instead.
One of my motivations for moving to my current co-op house is that I have wanted to live in a community setting that felt more family-like.  And to a large extent I think we have succeeded in creating that environment.  Last year, for the first time,  I actually celebrated Christmas with many of my housemates.  That Christmas Eve, we lit up the common spaces with Christmas lights, turned off the overhead lights and enjoyed each others' company.  The next morning, we had a delicious Christmas brunch and played Christmas music.
I'm glad to say that this year, we have a co-op Christmas tree.  One housemate proposed the other idea, and another housemate knew someone who worked for a Christmas tree farm.  A few days ago, she came home with a four-foot Frazier fir and put some lights on it.  A couple of days later, I brought my Christmas decorations down from the attic, added more lights and draped garlands on it.  It looks absolutely beautiful when lit up.  Another housemate draped garland in some of the common areas. 
Ironically, more of us are celebrating Christmas away from home this year, and I'm writing this blog post from Chicago.  I know that in the long run, whether we have a Christmas tree or not makes little difference in the quality of my life in the co-op.  But it does seem indicative of the family atmosphere that we're trying to cultivate here.