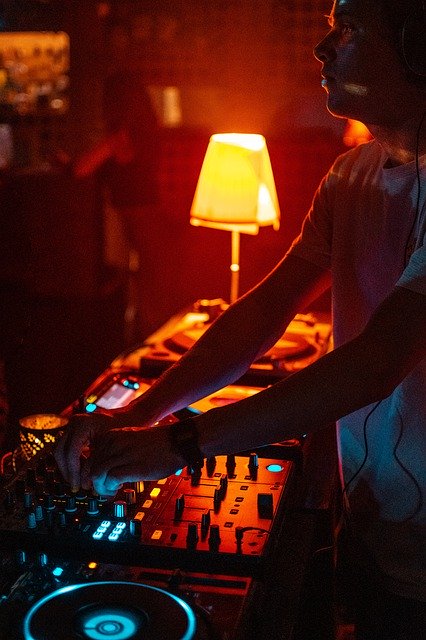 Last night was a very good DJ night for The Different Drummer Soundtrack at the Madtown Barefoot Boogie.  I started with a fairly mellow blend of music to let people ease into the dancing, and gradually turned the energy up.   I was quite consistent about keeping people on the dance floor.  A rather wild energy took over the dance floor at times with a lot of people jumping and skipping around or singing along to the lyrics.  At one point I could even see a train of people going around the room. It was definitely one of my best sets, if not my best overall.
Before I left,  I checked the book where attendees can leave feedback for the DJ.  There was, to my surprise, what appeared to be a rather angry comment about my selection of music.  I can't remember the exact words, but it said that not everybody likes the categories of music I was playing  I don't remember the musical categories cited, but one of them was trance.  I don't really play any trance music–at least not the common definition of trance, which is characterized by very fast, hypnotic beats. 
But I do agree that I could use more diversity in the music I use to DJ.  The bulk of my music was not bought with the dance floor in mind, and probably most of my CD collection is from the 90's.  I also have a lot of good 80's music, and I've added a lot recently from this decade now ending. 
There is also a real trick to figuring out what will sound good coming through the speakers onto the dance floor.  It isn't always the same music that sounds good through the headphones.   I've experimented with many songs, and some have been hits with the dancers, while others have cleared the dance floor and left me frantically shuffling through my collection to figure out how to bring them back.
I have a certain number of songs which are usually hits on the dance floor.  I refer to them as my "rescue remedies," because they will frequently get me out of a jam when the dancers aren't responding.  The only issue that if I play them too often, the dancers will grow tired of them.  Last night I used a number of those songs, not to help myself out of a jam, but because I noticed that there was a really good energy on the dance floor, and I was running out of ideas as to how to keep it going.
It does seem, however, that I'm more sensitive to repetition than the dancers are.  I remember playing one set a few months ago which got a lot of really good feedback from the dancers.  Yet I hated the set–I felt like I'd introduced nothing new and it was just the same old stuff I always played.  Top 40 radio stations understand well that a key to a song's popularity is repetition, and I think I can see that phenomenon on the dance floor as well.  But then again, I don't listen to Top 40. 
DJ'ing always involves a tension between what the DJ wants to play and what the dancers wants to hear.  It's a healthy interplay that can allow both the DJ and dancers to grow.  I could never be a wedding DJ.  One friend asked me to DJ her wedding and I realized I couldn't because I'd have to cater to such wildly diverse tastes.  Even though my own collection includes pop, punk, folk, country, reggae, various varieties of dance and has about six or seven decades represented, I still couldn't please the whole crowd in the way that a wedding DJ should.  That's a real art in itself, but it's just not me.  On the opposite end of the scale, I occasionally hear criticisms of DJ's who seem to play only what they want, without any focus on the dance floor. 
So I need to continue to grow my collection and listen to it more often with a DJ's ear.  The friend who got me into DJ'ing tends to put four hours of preparation into each set, just by listening to music and refamliarizing himself with the "tools" at hand.  We never plan more than the first three or four songs in any set, but knowing what is within reach for any given situation makes a huge difference.
For those of you curious as to what was in my set last night, here is what I remember.  I need to get in a better habit of writing these things down:  Arkestra One–"Into The Light,"  United Future Organization–"The Sixth Sense," J Boogie–"Oceanic Lullaby," William Orbit–"Water From a Vine Leaf," The Orb–"Little Fluffy Clouds," Bomb The Bass–"Bug Powder Dust Forward," Moby–"Find My Baby," Jem–"Just a Ride," Stereo MC's–"Connected," Bebel Gilberto–"Mais Felix," TransGlobal Underground–"Lookee Here," Nardo Ranks–"Burrup," Pop Will Eat Itself–"Bulletproof," The Soup Dragons–"I'm Free," Thievery Corporation–"The State of the Union," Deee-Lite–"Groove Is In The Heart."