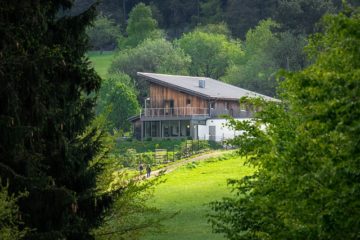 I'm writing this blog post at a cafe in my old neighborhood of Lincoln Square in Chicago.  I lived in this neighborhood for six of the years I lived in Chicago, and my sister still lives near here.  I'm down here to visit family for Christmas. But I'm actually here to write about my years in Madison—specifically, my reflections on the fact that today marks seven years since I first moved into a co-op house in downtown Madison.  
I just got back from the Baha'i Temple in Wilmette IL, where I spent about two and a half hours praying, meditating, and journal writing.  Thanks to a $40 gift certificate from my sister, I was also able to be like a kid in a candy store at the Baha'i Visitors' Center bookstore, and I made significant additions to my Baha'i book collection as a result.
Moving from Chicago to Madison was a major change in my life.  Practically everything changes when you change cities.  Looking back, I can also now see that 26 December 2002 marked a significant correction in the course of my life.  Since 1993,  my goal had been to live a communal lifestyle, but many things were preventing me from making that happen,  I thought I could create community in Chicago, and a few ways I had limited success.  But many things in my life were distracting me from my goal of community, I had to finally yank myself out of the life I was leading and start a new life.  I had other reasons to move to Madison besides community living, but this has emerged as the most important change in my life as a result of the move.
After a couple of years in the co-ops, I began to observe how high turnover in many of Madison's co-ops would often stunt the development of community.  A lot of it is because the co-ops cater largely to students.  It's a good thing that the co-ops are able to serve students, and many students contribute an immense amount to the co-ops for the short time they're there. But as someone who has not been a student in many years, I find myself with different needs.  So I began to develop a goal of seeking and helping develop a co-op community that would attract more long-term members.  
When I moved to my current co-op,  I moved in with people who shared much of the same vision.  Partially because of this, and partially because I really like my housemates, I am quite happy at my current co-op.  In many ways, I have realized my goals when it comes to community living.  Having done so, what is next?
I think I need to continue to work on helping develop a sense of community in this house.  To some extent that's a choice one makes, but it's also something that needs time to develop.  Another thing I've been thinking about is ways to build connections between this community and people outside the community—perhaps something like an "inner community" of house members and a "outer community" of friends who don't live here, but still feel connected to the co-op in some way.
It's funny being in Chicago right now—it's almost as if I've traveled backwards in time to a former life.  But this is a good place to reflect on my current life as well.  I've often said that I don't know whether I'll be leading this communal lifestyle when I'm fifty.  At this point, I'd say that it largely depends on how successful I am at finding community in my life.  I'd say so far, so good.