Soundtrack in my head: Nick Drake, "Northern Sky"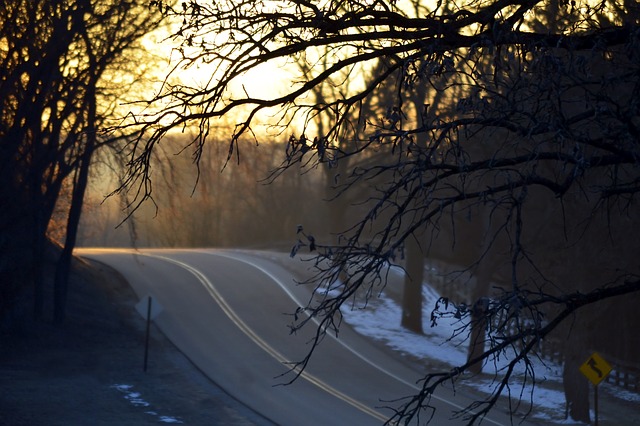 As of yesterday, I have lived in my current co-op house here in Madison, Wisconsin longer than any other place I've lived as an adult.  Only the thirteen years I spent growing up in a certain house in Oak Park, Illinois exceeds my tenure here.  
I can only imagine what was going on in my head on the morning of January 27, 2003, the morning after I'd relocated for good.  Paging through my journal pages doesn't necessarily give me a lot of insight.  
I strongly associate Nick Drake's album "Bryter Layter" with my arrival in Madison.  I'd received the CD as a Christmas gift, and so I played it when I first began moving my things to Madison on December 26th.  A little video of the track referenced above—"Northern Sky" can be watched below.  The first track of the CD, "Intro" is a brief but beautiful rolling acoustic guitar solo, and it represents for me the feelings I had as I left behind the busy metropolis, and reminds me particularly the rolling hills north of Janesville that always represented the last leg of the trek to Madison.  The second track on the CD, "Hazey Jane II," has lyrics that were quite relevant to the moment (I've posted in an earlier post).  It sounds like many late 60's/early 70's folk-pop songs, and a chorus of horns opens the song as if it were a wake-up call to a new day.  
The first days, weeks and months in Madison, Wisconsin
It was a new day.  Still slightly dazed and shaken, my new life began almost immediately.  At the house meeting the next day, I was appointed the house's board representative for Madison Community Co-op, and a few days later, I found myself among a crowd of new faces as we discussed the organizational matters of the day.  I remember looking around the large vintage looking living room of International Co-op during that meeting, and trying to convince myself that this was all real.  There was a part of me that worried that I might hit financial bottom and have to relocate back to my parents' house in the Chicago area.  
It was a very tough first few months.  A loophole in Illinois law kept me from qualifying for unemployment compensation.  I would need income soon, and I realized quickly after a number of interviews that I no longer had enthusiasm for the career of my previous twelve years (though recently, I've realized that certain aspects of it I miss and would not mind revisiting). So I had to scramble and ended up surviving on temp jobs for a while.   
A number of other things happened.  I began to develop what I'd later learn were the first signs of gout—but as I initially had no health insurance I had to wait for the crippling pain to just go away.  I had to learn the fine art of fending off creditors.  My Geo Metro was totaled on Fish Hatchery Road when a driver not paying attention made a left turn right in front of me, giving me little time to brake.  (Luckily I and the other driver were unhurt.)  
It's funny—I have to fend off shameful feelings as I write this because of the stigma often associated with being in such a position, but looking back, I know that I learned an incredible amount during this period of hardships.  I feel like I have a very different perspective on work than I did before.  In the coming year, as stability returned to my life, I found myself (and still find myself) grateful literally to the point of tears of being able to have simple things like a job, co-workers, and a supervisor.  
Still a miracle
Even with all the hardships at that time, I knew that I was still the recipient of a remarkable miracle.  Like I explained in a previous post, something resembling a makeshift but perfectly functioning Rube Goldberg invention:
1.    Gave me an unexplainable gut feeling telling me I had to move to Madison ASAP even though it made zero sense at the time.  These feelings that wouldn't go away,
2.    …combined with learning that a friend of mine lived in a co-op house
3.    …led me to start job-hunting and looking at co-op houses in Madison.
4.    Then a friend let me rent a room in her condo for as long as I needed it without signing a lease
5.    …and a month later a co-op encouraged me to apply for membership and accepted me a few weeks later
6.    …with my friend helping me realize that I could pay rent at both places
7.    Finally, right after signing a lease at the co-op, I learned that my job in Chicago was in jeopardy, which would be confirmed a month later,
8.    …leaving me unemployed, but able to move to Madison, and able to cut my living expenses by a third at just the right time.
The only thing linking my life with my old home of Chicago—besides family and friends—was a spiritual path that I was involved with.  This spiritual organization had a center in the Chicago area, but I was the path's only practitioner in Madison.  At that time, I had a great desire to start a branch of the organization in Madison, and I thought at the time that this series of miraculous events was due to my desire to pursue such a goal.  At the ceremonies this spiritual organization had, people would frequently share their experience stories, and I thought this was a perfect experience story to share.
Yet, mysteriously, I was never able to share this experience story at this spiritual organization's monthly ceremonies.  I submitted the story several times for approval over the course the next few years, yet I was never permitted to share it.   One person told me that she just didn't get the point of my sharing it.  This seemed baffling to me.  I mean, it was as if bricks and mortar were falling out of the sky in front of me and mysteriously arranging themselves into a house right at the point I desperately needed shelter.  And I wouldn't have even walked in the direction of such a miracle had it not been for a mysterious gut feeling 2 1/2 years before.  What part of God's grace did they not get?   But another person told me that experience stories were supposed to talk about a difficulty in life and then talk about how applying a certain teaching from the spiritual path resolved the difficulty.  To them, my experience didn't seem to fit neatly into that mold.
Looking back, I now realize this miracle was for my own development and not for the spiritual organization that I'd been seeking to promote.  Part of this experience was about God being bigger than any religion or spiritual organization, and God continually confounding efforts of human beings to put walls around Him and defining in their own terms what God is and God isn't.  History has repeatedly shown God making a mockery of such walls by—guess what?—walking right through them.
This was actually among the first of many signs showing that it was time for me to leave that spiritual organization, and the gradual awakening led to my leaving that organization and joining the Baha'i Faith last fall.  
Closer to fine
Looking back, I can now see that while I had met many of my life goals while living in Chicago, they were not always the goals that were making me happy.  I mean, they were to some extent, and some of those experiences are valuable even to this day.  But it was also clear that something in my life there was seriously missing and out of balance.  
In living in a co-op house here in Madison, I currently believe that I am closer to where I want to be than I was with my hyper-busy lifestyle and one-bedroom apartment in Chicago.  I feel like my life is more balanced.  I feel I have found a home for myself here, even as I try to understand and further develop the niche for myself in my life.  
It seems fitting now that I can finally tell the full story only now, five years after the fact.  It seems now that leaving the spiritual path I was in before and joining the Baha'i Faith was, in essence, the final step in my transformation from my life in Chicago to my life in Madison, because that was the last reason I had for going down to Chicago on monthly basis.  
I've stopped pretending that I know the answers or that I can figure out them all by myself.  I can't even rule out the possibility of living a completely different lifestyle or completely different spiritual path years from now.  One thing is clear–God has given me a much more interesting life than I could have ever composed on my own.