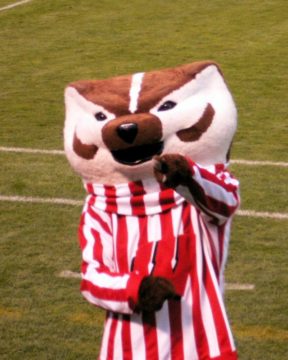 Jimmy the Groundhog did not see his shadow today in Sun Prairie on Groundhog Day, so that's supposed to mean an early spring. (For non-Wisconsinite readers to this website, here is a previous post about the Jimmy vs. Punxsatawney Phil debate.)  What if Bucky Badger saw his shadow instead?
In reading about the history of Groundhog Day, I learned that German immigrants brought the tradition to Pennsylvania. Except that in Germany, the bringer of the news was not a groundhog, but a badger. The "badger day" tradition became "Groundhog Day" here because badgers could not be found—they are reportedly not native to Pennsylvania.  However they are native in the Midwest and West.
Given that the Bucky Badger is the mascot for the University of Wisconsin here in Madison, it makes me kind of glad that the folks in nearby Sun Prairie started the "Jimmy the Groundhog" tradition so that local people could have their own rodent to rally around.  Imagine what would have happened if some school spirit boosters had discovered the badger's traditional role on February 2nd and tried to take advantage of it? Here's what might have happened:
"It is a chilly day early in the morning this February 2nd here in Camp Randall Stadium in Madison, Wisconsin, where just in a few minutes, the festivities of the Budweiser Bucky Badger Day will begin. A crowd has gathered around the fifty-yard line—on hallowed ground normally tread by Badger football players. But today we instead have a large mound of dirt where Bucky Badger has comfortably burrowed himself. Approximately 50,000 Badger fans are waiting to see him emerge from the ground to determine whether spring is coming soon or whether we will have six more weeks of winter.
"Wait! We see some movement under the ground. Could it be? Could it be? It is! There's Bucky—he's making his appearance. And…he sees his shadow! Wait! How could that be? It's cloudy out this morning.  How could it–oh, it's the flashbulbs from the cameras. So it looks like—yes it's now official—Bucky Badger does NOT see his shadow. Repeat: Bucky Badger does NOT see his shadow. We're looking at an early spring! The crowd goes wild, as everyone lifts their cups of Budweiser in a toast to Bucky and the news he brings for spring! What an exciting day here in Madison, Wisconsin!"
Yeah, it might not have been pretty.