My trip on the Southwest Chief Amtrak train to and from Albuquerque did not disappoint. Cross-country train trips like this help define the full and multiple meanings of the word "trip."  I originally decided to travel by train instead of airplane because it was much cheaper, but I ended up getting a lot more out of the journey than I would have had I flown.
When the Southwest Chief pulled out of Chicago, the weather there was rather weird for December 22nd–rainy and suprisingly warm,–probably in the upper 40's. Interestingly enough, I discovered that the Southwest Chief train used the same Burlington Northern tracks as the Metra commuter train that I used to take out to my parents' previous home in LaGrange.  I showed my seatmate the station near my parents' old house. Now this same set of tracks was serving as the beginning point of my journey to my parents' new home in Albuquerque.
I was surprised to see the Des Plaines River flooded–extending a few hundred feet into the surrounding woods, and going almost all the way to 1st Avenue. As the urban area gave way to farm fields, I noticed that many of those fields had uncharacteristically big puddles. I think this heavy rain might have been from the same storm system that dumped tons of snow on Colorado and the Plains and shut down down the Denver airport.  The sun went down before we crossed into Iowa, and in Iowa, Missouri and Kansas, I only saw occasional lights representing some degree of human existence.
It took the train eight hours to get through Kansas, but the sun came up only as we approached the Color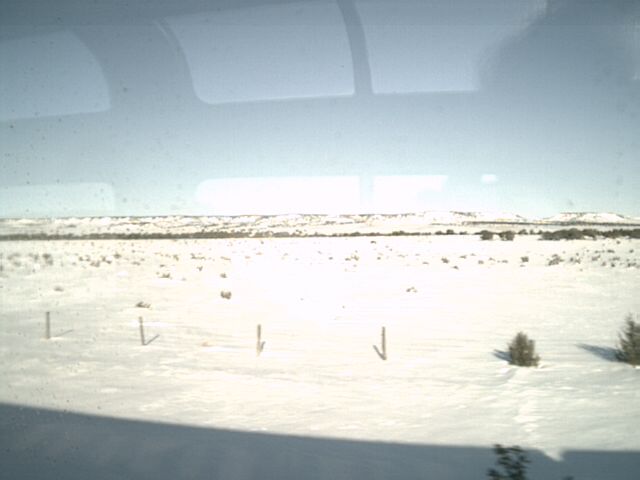 ado border, and when it did, the terrain revealed something new–snow.  Lots of it.  It wasn't obvious at first until I realized that the utility poles and the barbed wire fences were, um, unusally short.  I watched the sunrise over the snow, and it was interesting to see the gradual change in the terrain from the Kansas plains to the Colorado plains, and watch those plains get gradually more hilly until finally we began to see some mountains.
The view became even more spectacular as we approached New Mexico. Tufts of desert brush began to poke through the snow, giving the snow an orangish color as one looked in the distance. The train snaked its way through the Raton Pass, and within one hour of Albuquerque, I recognized the shape of the Sandia Mountains–from the north and the east, as opposed to the west and south views from Albuquerque that I was used to. As we approached Albuquerque, it was interesting to see the little dusty haciendas sitting isolated in the middle of a sea of desert brush.   I watched from the observation car as Indian pueblos and little towns eventually gave way way to the city of Albuquerque. It felt like we were looking into everyone's backyard in a way, kind of seeing the reality of the lives of these people as opposed to the Disney-esque setting in which most towns and cities want to present themselves. I saw a lot of backyards that had pick-up trucks in various states of disassembly , but this authenticity made these little New Mexico towns appeal to me that much more.
But one of the best aspects of this trip was the opportunity to interact with people. I talked extensively with a native of Taos, NM who just quit her job in Boston, and was traveling the country via rail before settling down and figuring out her next move. I spoke with another woman who had a flight from New York to Albuquerque cancelled by the snowstorms in Denver, and after two days stranded in the NYC airport she decided to take the train, which meant she was arriving in Albuquerque four days later than expected. There were a lot of Amish people on the train, speaking German with each other. At one point, we observed a card game between an African American man and an Amish woman. As a joke the man pretended to be hyper-competitive in the game–he'd slap down the cards and yell "Boo-ya!" when he won, and when he lost, he'd accuse the Amish woman of cheating at cards, which provoked a lot of laughter all around, including among the Amish people there.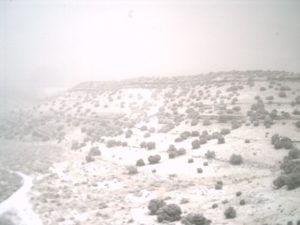 The day that I left Albuquerque back for the Midwest, it had been steadily snowing for about four hours.  I'd heard on the news that the Denver airport was shut down again.  The Southwest Chief was a little late, and when I got on the train, I learned we were being re-routed.  Passengers with destinations in northern New Mexico and Colorado had to get off in Albuquerque and stay for the night.  Rather than go up north through the mountains of New Mexico, which were being socked hard with snow, we went south 30 miles to Belen,  cut east through Clovis, then northeast to Amarillo TX, and then straight north through Oklahoma up to Kansas.   The east Central part of New Mexico is not mountainous and in some ways more resembles the flat grasslands of the Texas Panhandle, and all of this was being covered in snow.  This part of the state is also very empty, and it's possible to ride one or two hours without seeing any signs of human habitation.  The snow was coming down so hard that visibility was maybe one or two thousand feet, and sometimes I felt like I was in a airplane flying through the clouds rather than riding a train on the ground.  The sunset acted as a dimmer switch for this winter scene, as white gradually became more and more grey and the terrain disappeared into complete blackness.
As we passed through Fort Sumter and Clovis, NM, the lights of those towns revealed thinner snow, probably due to the lower elevation.  But I could frequently see emergency lights on two-lane roads running parallel to the tracks, due to some unfortunate souls losing control of their cars in the slippery conditions.  Right about the time we crossed into Texas, the snow gave way to freezing rain, and eventually just rain.  We stopped in the railyards of Amarillo to switch diesel engines and I could tell it was very wet and windy.  I woke up in Kansas again, but this time there was no sign of snow.  I felt like time had gone backwards, with the sun having set in January and risen in November, and I could still see dead leaves at the bases of bare trees.  It was like this all the way to Chicago.
On the way back to Chicago, I ate more at the dining car rather than rely on the microwaved delicacies at the snack bar.  Because of the small size of the dining car, strangers would be seated with strangers, and so I engaged in interesting conversations with a couple Chicago natives from L.A. who were on the train for the experience and planning on flying back to L.A. once we reached Chicago.  I also spoke with a musician from Memphis, and a student from Loyola University in Chicago who was minoring in Islamic studies.  One man kept on gathering a crowd around him because he had a laptop that continuously showed our current position on the map–eventually he simply left his laptop in the lounge car for anyone wanting to see where we were.
There was a minor incident late on the ride home when the conductor mistakenly seated a couple in my seat.  But nearby passengers I hadn't even talked with before spoke up on my behalf, describing how the couple was being belligerent in insisting on sitting together and somehow pushing the conductor to seat them in my seat (perhaps due to the mysterious disappearance of a slip of paper that was supposed to hold my seat for me).  Another conductor found a different seat for me, and a couple other passengers in the area checked on me to make sure that the conductor found me a good seat.
Amazingly, we only arrived in Chicago four hours late on what normally would have been a 25-hour journey.  This was a feat considering the fact that we were going two states out of our way.  We were using freight lines to get through, not standard Amtrak routes.  Burlington Northern-Santa Fe owned the tracks, not Amtrak, and had to balance Amtrak's needs with that of the freight carriers. The only issue with Amtrak was that passengers didn't always know what was going on.   In Kansas City, boarding passengers complained that they had not been told of the four-hour delay even that morning, even though the decision had been made fourteen hours before to re-route the train.  And my father called me on my cellphone because the Amtrak website did not indicate what happened to the train.
But I think this performance still compared very favorably compared to the airlines.  I keep thinking of the woman in New York who was stranded in the New York airport for two days before giving up and taking Amtrak, just because she was unfortunate enough to have a connecting flight in Denver.  My aunt and her partner did not have Christmas dinner with us because they were in Puerto Vallarta, and the airline told them that they either had to go through Denver or go with a different airline, so they waited.  It does not appear that airlines cooperated with each other by offering the use of each other's hubs, and so the entire system ground to a halt, with the snow in Denver creating delays in most of the major airports around the country.  Let's hear it for airline deregulation.
When I got off the train, got my baggage, and got upstairs to Canal Street, it felt remarkably warm but windy–probably in the upper 40's or low 50's again.  My father called me on my cellphone and told me that I got out of New Mexico just in time–Albuquerque was buried under with twelve inches of snow.  It is rare that Albuquerque gets any snow, but so far the city seems to have gotten about five times as much snow as Madison has this winter.
I boarded the Van Galder bus for the last leg of my trip home and was surprised to see an Amish couple that I had seen in the Albuqerque Amtrak station.  I also saw a woman that had sat next to me on the initial Van Galder bus to Chicago.  Funny how these things happen.
Not only did I see the country and talk with a number of interesting people, but I may very well have gotten to  and from Albuquerque faster than if I had flown.  I think I'm going to try to take the train more often if I have the time and schedule flexibility to do so.