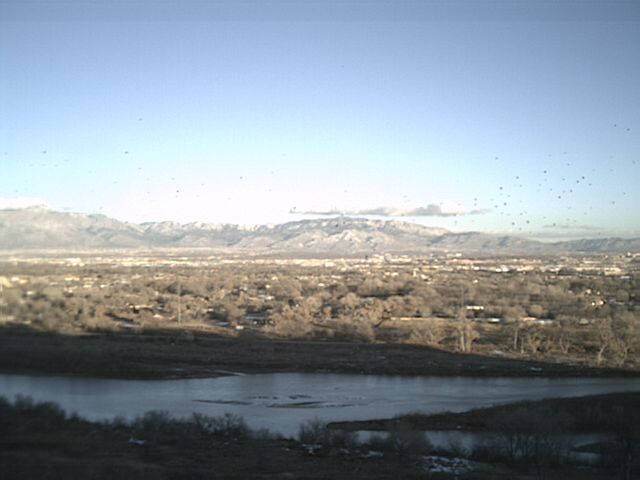 My parents bought a house in Albuquerque last year and they moved there this summer.  Fifteen minutes from now I am going to step outside and start my journey there for the holidays.  I'll be seeing my parents' house for the first time, and staying there for about a week.
I decided to take an Amtrak train there after realizing that the cheapest airline ticket there was $450 (in September!) and that an Amtrak ticket was half that.  It's a 25-hour train ride, and I have to take a bus to get to Chicago's Union Station and I have a four and a half hour layover there, but I think it's worth it.  I'm a big guy, not only girth-wise but length-wise–I'm 6'2″ and I don't fold as well as I used to.  I'm continually finding the seats on the bus that allow me to stretch out a bit more.  Flying to and from New York last month was fairly hellish with the cramped feeling.  But last time I took Amtrak to New York I had twice the legroom–my legs could barely touch the seat in front of me. Sleeping next to the window, I opened my eyes and the first thing I saw was a beautiful winter scene of fresh snow in the woods of upstate New York.  I also don't mind the length of the trip–I can get up and walk around.  You can plant me almost anywhere and as long as I have my journal and a book, I'm as content as a cat.
I'm doubly glad I'm taking Amtrak because the winter weather in Colorado and the Plains seems to be snarling air traffic.  I'll be going through that way, but Amtrak has assured me there will be no problems.  It is apparently easier to clear a railroad track than an interstate.  Of course, maybe I shouldn't speak too soon.
'Tis the season to get one's stomach pumped.  Or something like that.  My office had a treat day every other day for the entire month.  So much sugar was in the building, it's a wonder the building didn't crystallize.
I might or might not be able to post while I'm in Albuquerque, so I wish you dear readers the happiest and diabetic coma-free holidays possible