I knew that Albuquerque would supplant Chicago as my second home once my parents moved out there.  My parents met and got married there, one set of grandparents were out there, and my aunt and her partner have been out there for a number of years.  I always thought I knew the city fairly well, but this most recent time out there, I got a stronger flavor for the old Albuquerque than I had before.
Albuquerque is built in a valley, with the Rio Grande River cutting a north to south path through the area.  On the east side are the Sandia Mountains, with elevations as high as 10,000 feet.  On the west side are bluffs and mesas,  further west there are even a couple of extinct volcanoes.  My grandparents lived in the far eastern section of the city close to the mountains.  From many places in that neighborhood you could see most of the valley, and see the city lights at night.  The east side tends to be more of a bedroom community.  This is the part of the city I was most familiar with for many years.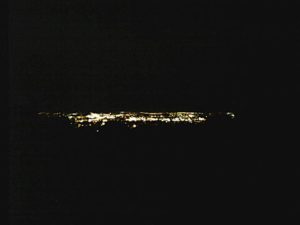 My parents bought a house on one of the bluffs to the west, and while they are not next to the edge of the bluff, one can still see both the mountains and the valley and the city lights at night from the family room window (a view for which the photo doesn't do much justice).  They are also a couple of blocks from a park that goes to the edge of the bluff, and from there you can see most of the valley.
While Madison celebrated its sesquicentennial (150th birthday) this past year, old Albuquerque celebrated its tricentennial.  That's right–300 years.  The city was founded by the Spanish, and still has a strong Spanish and Indian flavor to it.  Adobe style houses and buildings are everywhere.  I couldn't seem to grow tired of seeing that style of architecture, though I don't know if my opinion would change if I actually lived in Albuquerque.  I think that it gives neighborhoods an interesting feel.
And I was impressed by the neighborhoods, realizing that they are more diverse than I thought.  I was somewhat surprised by the urban feel of my parents' neighborhood–they have been suburban dwellers for the entire time I've been alive.  My aunt and her partner live in the South Valley of the city, kind of a semi-rural, semi-industrial area.  There are neighborhoods with lots of ranches.  Not ranch houses,  ranches–the kind that horses run around in.  And there's a neighborhood, Nob Hill, that would resemble Madison's State Street if State Street were located on a somewhat dusty stretch of Old Route 66.
One of the unique aspects of Albuquerque is the sheer number of luminarias that dot the city landscape around Christmas.  Who knew that a paperbag, a tea candle and some sand could create incredible beauty in the right quantities.  Check out my sister's pictures (her camera had better night vision) and see for yourself.
When I got back from Albuquerque,  a couple of housemates commented that I'd gotten a bit of color, presumably from spending time sunning myself on the deck.  Um, sorry–that's windburn, dudes.  The temperature in Albuquerque has been about the same as Madison over the last month.  And  they've gotten several times as much snow as we have this winter.  Of course, it's usually not that way–it's usually twenty degrees cooler in Madison than it is right now.  And of course, the Southwest has had a number of winter storms.  The area near the mountains usually gets hit the hardest, as you can see from this photo, but the day that I left, my parents neighborhood was affected.  If this picture doesn't convince you, I don't know what will.
As much as I like old Albuquerque, I can't say that I'm tempted to move there at this point.  Despite the many charming neighborhoods, it really is a city of cars. It's not too much different from places like Phoenix or Las Vegas where you absolutely need a car to get anywhere.  But it's a heck of a lot more colorful.  Still, Madison has the "community vibe" like no other city I've ever lived in.  People here get it when it comes to the feeling of community.  That's what attracted me here, and that's what will keep me here–at least for awhile.