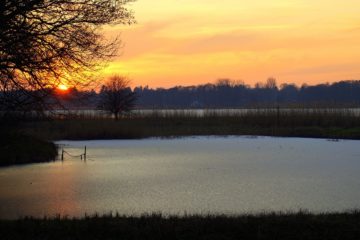 I walked through Brittingham Park again yesterday because Monona Bay is great for exercise walking.  It wasn't 64 degrees like last weekend–more like 34.
Last Thursday, people were bemoaning the supposed return of winter, and the city of Madison battened down the hatches for a blizzard that ultimately dropped, oh, all of about two or three inches.
But as I walked into the park, I could clearly hear more birds singing than I had the week before.  And when I got to the edge of the bay, there was definitely more open water than last week.  No waterskiers yet–but no ice fishermen either.  The ice was definitely too thin for humans to walk upon.  But I did spot a couple of small to medium sized animals sitting on the edge of the ice washing themselves.  I couldn't tell from a distance what they were.  They definitely like the water, and I want to say that maybe they're some kind of otter, because I know I've seen something like that swimming in the lake before.  Except it looked a bit too fat to be an otter.  Anyone able to give this ignorant city kid some info on this?
The experience got me thinking that maybe the presence of snow on the ground is a superficial measure of what season we are in.   Our temperatures may go up and down, but change in the lakes here is much slower and much more enduring.  And while I've seen isolated flocks of birds all throughout winter, I can't imagine I would have heard such a loud chorus of them unless they were planning on sticking around awhile.
I walked through the park again just a few minutes ago.  With Monona Bay being mostly open water now, I can see for the first time this year the reflections of streetlights and other types of lights on the lake.  The water elongates the reflection of the lights, creating beautiful and colorful patterns dancing on the water.  I looked out to John Nolen Drive across the bay, and saw more golden lights dropping down onto the water's surface from the stiletto streetlights that line the road as it crosses the bay.  It was about 10 p.m., and there were few cars on the road there, and it was still too cold for most people to enjoy going outside.  The patches of snow that were still left on the ground still seemed to have a hushing effect on sounds in the park, and so I got to enjoy this rather unique not quite winter/not quite spring scene.