Having lived in Wisconsin for over a decade and a half, October snowflakes aren't unusual or particularly strange. But Halloween snow that accumulates and stays for a while? That has felt weird. This past week, several snowfalls brought eight inches of snow accumulation, switching us from a feeling of fall to winter overnight. And sometimes we simply don't know what season it is right now.
A strange world has greeted me on Monday. It suddenly looked like February, with heavy wet snow accumulating and then melting through the day. Except they were melting off of leaves that had been, and many cases still were bright yellow, orange and red. The snow stopped by mid-morning. Morning and early afternoon looked like a winter wonderland, but by the late afternoon, most of the snow had melted off the trees, and the beautiful autumn colors re-emerged.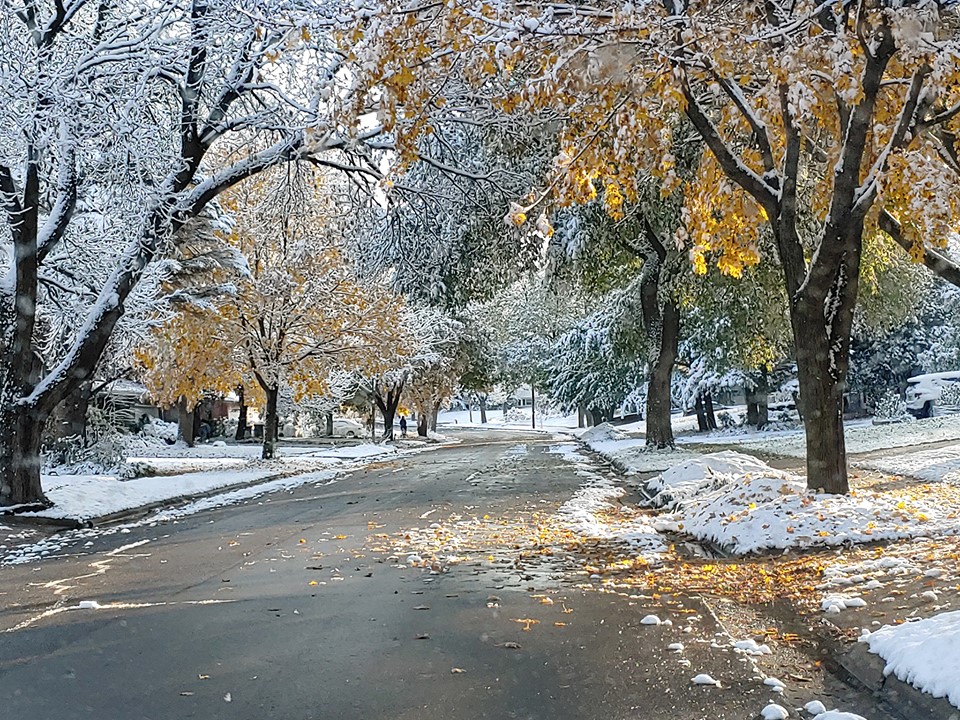 But Winter wasn't done intruding on Autumn. More snowfall arrived Wednesday night and even deeper snow greeted us the morning of Halloween on Thursday. High winds sometimes accompanied the snow. I had to drive round trip between Madison and Milwaukee and I sometimes encountered near whiteout conditions on Interstate 94. Most of the time I had to be careful when switching lanes, as the lanes were essentially just wheel tracks, and I had to cross unplowed snow to go into the next lane, resulting in risk of losing control of the car. Throughout most of Thursday and yesterday, it seemed like it was difficult to tell precisely which season it was. One weird effect of this snow was in the ways that snow mixed with decaying colorful leaves was mashed by car tires to create on the streets what can only be described as a strange orange-yellow-green paste on some streets in Madison. The total official snow accumulation this week was five inches, a record for October.
Another oddity of this fall is the fact that it started so late. I typically see three stages of fall: 1) green trees with splashes of bright colors, 2) bright colors dominating with most of the green gone, and 3) all leaves fallen. As recently as two weeks ago, we were still in stages one and two which is unusual for mid-October—by that time, it's usually between stages two and three and most of the leaves gone by Halloween. That had not happened as of the beginning of this week—we were still solidly in what I consider to be Stage 2.
The impact of this Halloween snow, (or "autumnus interruptus") on people's moods have been weird. Many people have discovered themselves to be in more of a somber mood. At one point, I had to pinch myself and remind myself that Christmas was still a little less than two months away, because I was feeling like it was early February and spring seemed so far away. (Especially when we've had winter snows well into April). Other people have told me the same thing.
Today, I noticed that most of the leaves of the trees outside my window had fallen, when earlier this week the trees were still mostly full of colorful leaves. With the leaves gone, I can now see buildings across the next couple of blocks that I hadn't seen before. There are only a few patches of snow on the ground left, and oddly enough, it looks like November. The weather over the next week or so is supposed to be cold, with highs from 32° to 43° F (0° to 6° C) and lows from 18° to 38°F (-8° to +3° Celsius).
As if Halloween wasn't weird enough
Weather in the Upper Midwest has become more unstable as the polar vortex has become more unstable. The polar vortexes are rotating masses of low barometric pressure around the North and South poles. They mark a divide between polar temperatures and warmer temperatures, often at about 60° latitude. But with climate changing making the temperatures at the poles more unstable, sometimes the polar vortex will move into more temperate regions, resulting in a deep freeze at lower latitudes like this past January when the temperature dipped as low as 30°F (-34°C) in Madison with wind chills as low as 55°F (48°C), and temperatures much colder in the rural and northern parts of Wisconsin.
Even if the polar vortex doesn't encompass Wisconsin, it leads to weirder weather such as what we experienced this week, or the unusually warm winter of 2012 when February temperatures were often above 50°F (10°C) and March temperatures above 70°F (21°C), with a record high St. Patrick's Day of 84°F in Madison.
With Halloween snow, and wildfires again devastating California at this time of year, strange weather continues to get stranger. We live in changing times. We need to change our consumptive ways and adapt to the changing planet around us.