After my visit to the Baha'i House of Worship last Tuesday, I returned home to Madison Tuesday night.  Then Wednesday morning I set out to explore southwest Wisconsin.  I had brunch in a small cafe in Belleville, then took WI Highway 39 and drove through New Glarus and Mineral Point.
Then from Mineral Point I picked up US Highway 151 and took it to Dubuque.  I'd always wanted to see that stretch of 151.  At one point I stopped near Belmont to look at the site of the original capitol of the Wisconsin Territory, but I hadn't realized that I'd be looking at a historic marker in the middle of nowhere.
I stopped in Dubuque for about two hours. The city has some high bluffs overlooking the downtown area and the river valley.  I discovered an elevator that could take me up to the top of a bluff.  This elevator consists of two stairstep elevator cars on very steep rails going up the bluff.  You pull the cord to alert the elevator operator and she starts the elevator, sending you up the bluff.  It costs $2 for a round-trip ride.  Neato.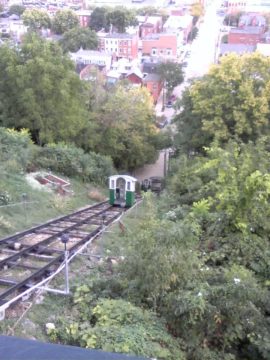 From Dubuque I turned around and took US Highway 151 to Highway 35, which is supposed to be scenic.  It is scenic, but not so much between 151 and Prairie du Chien.  It got bettter when it merged with US Highway 18 and went through some valleys to get to Prairie du Chien.  I stopped at the Brisbois Motor Lodge in downtown Prairie du Chien for the night.
The next morning I got back onto Highway 35 and traveled north to La Crosse.  This time, the scenery was wonderful.  The highway was located between the bluffs and the Mississippi River and I got great views of both.
In La Crosse I stopped at Grandad's Bluff.  One little secret–the banner of this website is taken from a older sunset photo taken from the top of Grandad's Bluff.  From there I took Highway 35 to Trempealeau and Perrot State Park.  I did a little hiking there and took in the view of Trempealeau Mountain.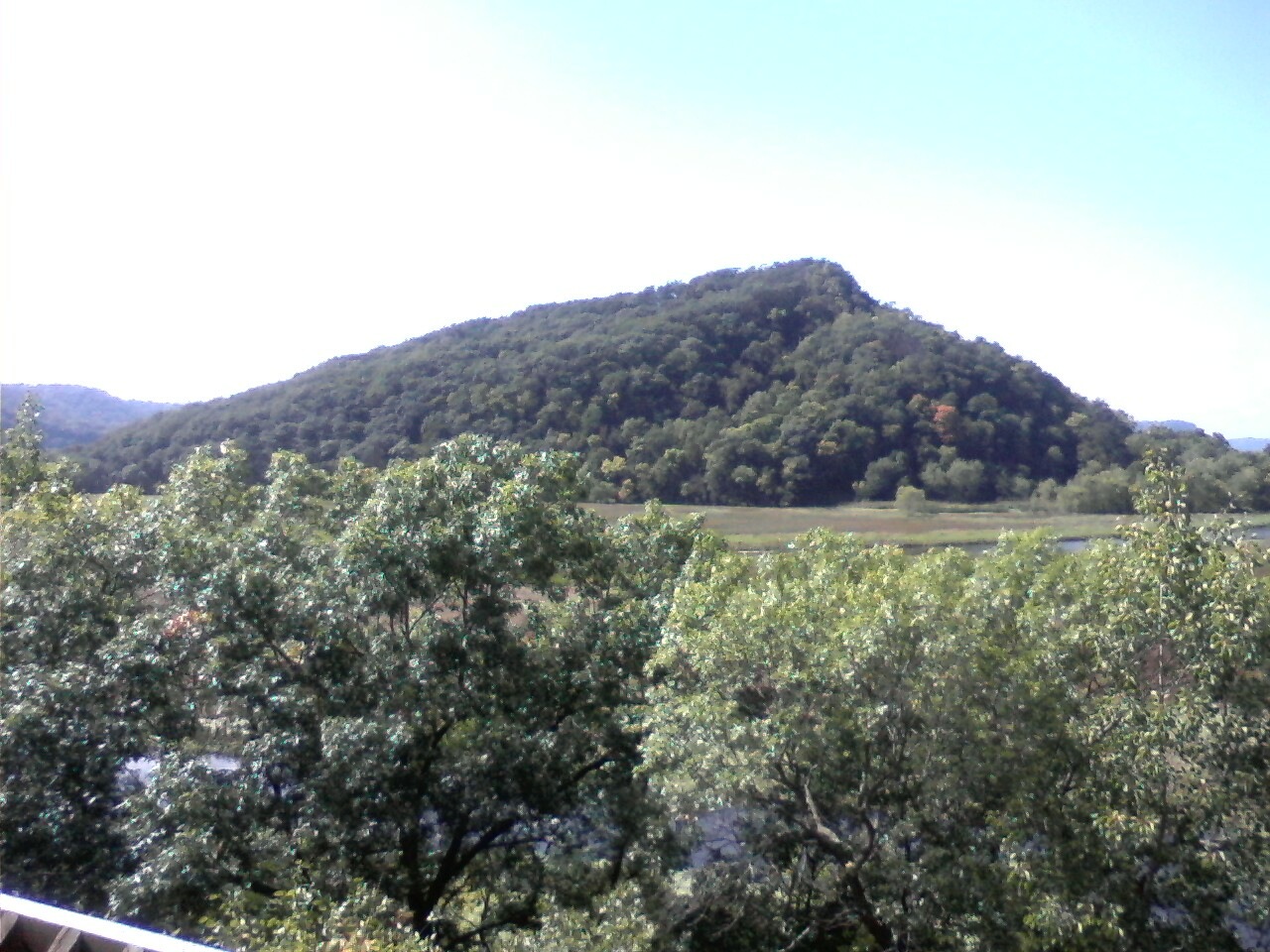 The village of Trempealeau is a cute little river town, and I ate lunch at the Trempealeau Hotel, which had nice views of the Mississippi River.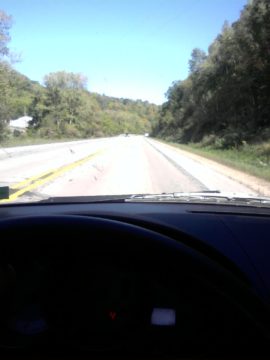 From there I turned around and headed back to La Crosse, and from there I picked up US Highway 14 to head back home to Madison.  Highway 14 has some spectacular views of its own.
Southwest Wisconsin always has had a special place in my heart.  It is an area unaffected by the glaciers which covered the land tens of thousands of years ago, and there are a lot of bluffs and valleys covering that corner of the state. During this trip, I could see patches of fall color amidst the green.  I would like to see the area again when it has more fall colors.