11 Rahmat 166 B.E. (Baha'i Calendar)
Soundtrack in my head: Cabaret Voltaire, "Big Funk"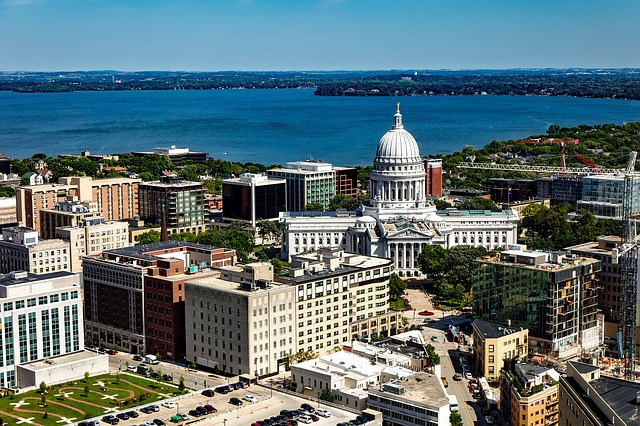 A couple of nights ago I went with a couple of housemates to see live blues–local hometown favorite Clyde Stubblefield–on the roof of Monona Terrace in Madison.  The performance took place a couple of blocks from Capitol Square, where Concerts On The Square was taking place, and between blues songs one could occasionally hear the sound of a violin section floating down Martin Luther King Boulevard from the Capitol to Monona Terrace.   The event reminded me a little bit of Chicago's BluesFest. Both with this live performance and with BluesFest,  people sit in a public area with the lakefront on one side and the tall downtown buildings on the other side.  In Madison both the lake and the buildings are smaller, as was the crowd listening to Clyde Stubblefield, but that's fine by me–the event was more intimate and human scale.
Last weekend I saw a jazz quartet at a tiny performance space at Restaurant Magnus.  I don't think the area could seat more than thirty people, but  I prefer smaller, improvisational quartets to big bands.  I was telling friends to watch the eyes and facial expressions of each of the band members while they take their solos and watch how the band members communicate with each other as they play.  I was reminded by how much I like watching live jazz, and made a note to myself to do this more often.
Next weekend for me is a Madison Mallards baseball game in the Duck Blind, a section in right field where $25 fetches you all that you can eat and drink ($5 more if the drinks are alcoholic).  And there is also the La Fete de Marquette, the second of four neighborhood festivals held in this neighborhood.
I guess I'm enjoying Madison with a vengeance.  There's two reasons for this.  A few months ago, with my untreated sleep apnea at its height, it was all I could do to muster the energy to go to work and do my household chores.  The other reason is that up until recently, I was considering a possible relationship that would have had the potential to cause me to move out of state.  For various reasons, the relationship didn't work out, and now I feel more strongly about making Madison my home and enjoying things here to the fullest.  I know there is much about this place that I'd miss if I ever left here.
So I hope you're enjoying your summer to the fullest!