The problem with helping start a new co-op house is that it gets in the way of blogging. How inconvenient. But I guess it should be good fodder for writing, I think, right? Well, let me try. I've finally unpacked my computer.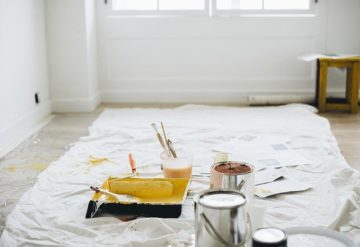 We're close to full, finally. We've made a decision on someone for the last open room, and we'll hopefully find out soon if the person want to move in with us. Meanwhile the house is slowly getting more organized. We finally got a dining room table just in time for the cold weather. Before then, we had all of our house dinners out on the porch. We are having weekly house meetings now and have set up a rotation for cooking and kitchen and bathroom cleaning.
Five of our house members have previous experience living in a co-op, but that doesn't automatically mean that things get organized quickly-though I imagine it would be faster than if the house was full of people with no previous co-op experience. My previous co-op house benefited from decades of effort at making the house more organized. Here, rules and procedures are only beginning to be established, and I've noticed how much easier it is to break a rule created yesterday as opposed to one that was created several years ago-I'm among the guilty parties, too. The other thing I've noticed is that it's easy for me to take for granted little things that were established practice in my old co-op-such as labeling containers of leftovers with the date and a description of what's inside. I look in the refrigerator and I think, "Oh yeah, I've got to put that on the next house meeting agenda. "
Our first floor has a somewhat funny layout. A large number of houses in this neighborhood are noteworthy for the large foyers they have. The previous occupants used this foyer as their dining room. That's because what used to be the dining room was converted to a bedroom. (Note to future co-op house developers-don't be so fixated on the number of rental units that you disrupt the house feng shui.) What we're currently trying to do is convert the foyer to a living room and having what has been a living room be a combination of a dining room and family room. We have two couches in the foyer and I see us fitting in a small coffee table and end table. It's sort of odd having it so close to the front door, though, but maybe if we arrange things just right it will work. As for the living room we're converting to a dining/family room, I can see us easily fitting the dining room table in the back half of the room, and that would leave plenty of room for a couple of more couches.
But we also have an enormous attic space that could easily be converted into common space. Not this year, though–there are a few obstacles. First of all, there is no heat up there, and it also gets very hot up there in the summer. Secondly, there is an unbelievable amount of stuff up there that people left behind. Clothes, books, dressers, desks. We made $75 on a yard sale that included only a tiny fraction of the items in the attic. Finally, the roof is scheduled to be replaced soon-most likely when warm weather returns in the spring.
This weekend, we are having our house retreat. For years, I've known of an inexpensive and beautiful retreat center located near Dodgeville. It has a lodge-like common house and cabins, trails, a fire circle, and a beautiful view of the hills in an unglaciated part of Wisconsin. Three years ago, I persuaded my old co-op to have a retreat there, and it went over so well that it is now established as part of the culture of that co-op. (They just recently had their first retreat without me last month.) I hope to do the same thing with this co-op.
A retreat for this house is all the more important because we are new and still establishing ourselves. This weekend, we will work to develop a common vision for the house, institute our house job system, and bond as a group. I don't know for sure, but a name change for the co-op house might also be in the works…