The holiday season lets me smile and tell myself that I'm all aglow with this "peace on earth and goodwill to all" stuff.  January comes in and kisses me with a flying snowball that says, "Okay, now, what are you going to do about it?"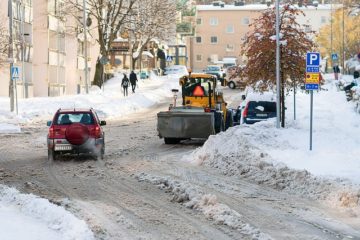 I look outside, as if Mother Nature would somehow give me solace and sympathy.  Sometimes she does, when fresh dustings of snow line the trees.  But today, January 3, I see mounds of plowed snow turned gray from car exhaust, wet winter boots leaving a salty grime on the boot tray and the hardwood floors we were hoping to keep clean, and weatherizing plastic on the windows reinforcing the fishbowl feeling I have.
I keep hoping that more holidays will illuminate the barren landscape and give me reason for celebration.  But those days are past.  Unfortunately, I don't get Martin Luther King's birthday off at work.  And unless I have someone special with whom I can celebrate Valentine's Day with, there won't be any reason to do so.  It seems like we need something else.
We need some kind of yeah-we-know-it's-the-bleak-midwinter-but-the-heck-with-it-we-can-still-celebrate-it kind of holiday.  Maybe some time around January 25th.  A time to laugh at our sorrowful selves.  We'll call it "Laugh At Winter Day."  Whad'ya think?
But the snowball that just had a friendly reunion with my face is now running cold water down my neck and reminding me that there's more to winter than holidays and wishing for more holidays.  There's my goals and my–ack!–resolutions.  My goals for creating more community in my life.  My goals for narrowing the gap between myself and God.  My career goals.  My financial goals.  My health goals.
I have this annoying habit of making it all sound like work.  And no play.  Making me a dull boy.
Too often I forget that the world can be a candy store.  Opportunities to meet people, opportunities to find new things that interest me and excite me.  I even forget that I'm doing things now that I would have only dreamed of a few years ago–living in a cooperative community, writing, DJ'ing.  And that even in barren places, there is still the beauty of moonlit snow and the unusual but comforting glow it casts in my room, sleeping under a warm blanket, and the knocking sounds of radiators.
So is the snowball half frozen or half melted?  Either way, I'm beginning to like its taste.  Snow cones, anyone?