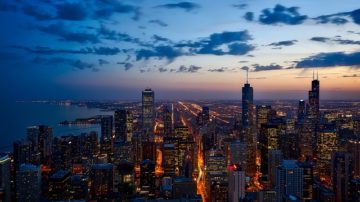 I'm back in Madison after a week in Chicago.  Twenty-four hours ago, at this time, I was a Christmas party at the house of my cousins in Lemont.  Then I boarded a Van Galder bus back for Madison at 10 p.m., had to wait for a connecting bus at midngiht in Rockford, and got home at 2 a.m.  I supplemented the few winks I got on the bus with four hours of sleep at home, then I had to get up at 6 a.m. and greet a foot-tall stack of papers on my desk at work.  So, after a week of Chicago lights, I'm tired, grumpy, and need to catch up on sleep.
It's kind of significant that today is the fifth anniversary of the day I first moved to Madison.  Actually there are two anniversaries–December 26th is when I first started living in Madison, and January 26th is the day I pulled up all my Illinois stakes and fully relocated myself to Madison.  That's another long story which I'll tell in another month.  But I promised ye gentle readers that I was going to write a little bit more about my visit to Chicago.  Luckily, for both your sake and mine, I started writing about this days ago, so I can post some of it now.   Like I said before, it was an interesting trip backwards in time, which, now that I think about it, seems perfect for me to talk about given the occasion.
I took the Van Galder Bus to O'Hare Airport, and arrived at about 8:15 p.m., forty-five minutes earlier than expected.  The bus dropped me off at the terminal, and from there I walked to the Bus/Shuttle Center since that was the only place I could grab a bite to eat.  I've never really been a fan of O'Hare.  I always feel like I'm in a bad science fiction movie for some reason when I'm there.
The Bus/Shuttle Center is one of the…um…least decorative parts of the airport.  Recently, they tried to spruce it up with some photographic displays showcasing Our Great City of Chicago.  While waiting for my ride, I decided to browse through the displays.  There were a couple of destinations featured that I hadn't been to before.  One of them was Millenium Park, which opened after I moved to Madison, and the other was a picture of a concert venue at Northerly Island, which was still Meigs Field Airport when I left the city five years ago.
My father picked me up and drove me to my sister's, which is in the neighborhood I lived for six years.  The next morning, my father, sister and I took the Brown Line train downtown.  We walked to Millenium Park and I saw Crown Fountain, with the photos of faces that digitally morph into different faces, which then occasionally spit out water.   I was hoping to see them spit out ice cubes in winter, but alas, that wasn't part of the design.  Actually, the faces morph very slowly in winter.  Then we saw the music shell and the big giant silver Bean, and looked down upon the outdoor skating rink and watched the Zamboni do its thing on the ice..
Downtown Chicago has never been my favorite part of the city.  It's the part of the city that showcases itself for the tourists and tells the world, "Hey, we're a big city.  We're awesome, awesome, awesome!"  Lively swing music is piped in at a lot of different places.  At every alley and dark corner I expect a Frank Sinatra impersonator to jump out and burst into an energetic rendition of "My Kind of Town."
We went to the Billy Goat Tavern for lunch on Lower Michigan Avenue.  We were greeted at the counter by a short middle-aged man that said, "Can I help you?  Double Cheezborger best. Want Coke Diet Coke?  Move along, move along."  Ah yes…Chicago efficiency.
Actually, one characteristic of many downtown Chicago restaurants is that they like to put lots and lots of pictures up on the walls.  The pictures often feature the owner posing with a famous celebrity or politican who visited the restaurant, or an autographed photo of the celebrity with a personal note to the owner.  I think the goal is to have as many such pictures as possible.  It's like a pre-Internet version of Friendster, MySpace or Facebook.
Hot Doug's has a Chicago-style efficiency similar to the Billy Goat, but it's more polite and pleasant.  I think this hot dog place opened after I moved to Madison, but  it is so popular that a line streams out the door and for about fifty feet down the block.  Amazingly, seats are almost always available in the place.  The owner is this guy with close-clipped hair and thick framed  glasses who is probably in his thirties. (Actually, in scanning the crowd at in the line, I was reminded that thick-framed glasses are an essential accessory for a hip thirty-something on the North Side of Chicago.)  He is very friendly but still efficient and moves the line quickly, and another employee seems very adept at crowd control and finding seats for people there.  I ordered an Italian sausage with a side of duck-fat fries (yes, duck fat, I'm serious), and yummmmm…I get hungry just thinking about it.  Definitely worth the wait in line.
In going around the city on the Brown Line, I really felt like it was a different me in a different life that used to walk these streets.  In many ways, it probably was.  At one point, the train stopped at Montrose on the Brown Line, and I said, "Oh yeah, I used to board the train at this stop a lot.  I once had a girlfriend who lived at Montrose and Greenview," and in talking about it, it almost felt like I was talking about someone else's girlfriend.
My life did change quite radically when I moved to Madison–this is more clear to me now than when I was actually going through the transition.  Not only did I leave my old city behind, but I also quickly realized when I got to Madison that the fundraising career I'd had for the previous twelve years was no longer something I wanted to continue.  So while these streets I was walking no longer felt like home, it felt like memories and feelings from my past were drifting around me.
On Saturday, after eating at Hot Doug's, I took the Blue Line downtown and went back to my old haunts there.  I looked at the building that used to house the small not-for-profit that I ran for five years.  It was funny–walking by the alley I was reminded of many dark nights behind the building loading boxes of brochures into my car.  I walked into the Music Mart building where I used to go for lunch.  Sadly, the Crow's Nest CD store was gone and replaced by a Barnes & Noble bookstore.  Too bad–the Crow's Nest was a good retailer of a broad range of music, and I spent a number of lunchtimes in the store's listening booths.
I sat at one of the tables at the mezzanine level like I'd done years before, and wrote.  More of the feelings I had when I ran that small not-for-profit–both enjoyable and stressful–came back to me.  But it was different this time because nearly five years had elapsed since I'd been in that space.  I was both inside my mind and body from five years ago and standing outside it at the same time, observing.
I did the same thing a couple of days later when I went to Oak Park, where I'd grown up.  I walked to the old house I'd lived in between the ages of one and a half and five years, over by Harvey Ave & Roosevelt Rd.  Surprisingly, I could actually recognize which houses most of my playmates lived in.  I barely recognized my house–I think that the porch, which had previously been opened, was now enclosed.
Then I walked over to the house I lived in between the ages of five and eighteen over at Elmwood Ave and Madison St.  (Yes, I grew up near Madison Street–isn't that funny now that I live in Madison, WI?)   I was surprised to discover that this neighborhood was now part of something called the "Gunderson Historic District" listed on the National Register of Historical Places.  I stopped and looked at my old house–it looked more or less the same from the front as it always had.  As I walked through that neighborhood, I had this image of children running about–there were a significant number of kids on my block when I was growing up.
But beyond the tourist stops and the memories,  the thing that I still like most about Chicago are the little things along the street that one just won't find in many other places.  For example,  along Lawrence Avenue just a few blocks east of my sister's apartment,  there is a produce store that caters effectively to the diverse constituencies in the neighborhood–it has fresh produce, gourmet natural foods, German spoil-me comfort foods, and the familiar smell of a carniceria (Mexican butcher shop) in the back of the store and at least one entire row of Goya Mexican food products.  Across the street there is a place where, apparently, you can buy a live chicken and have it slaughtered for you. (Okay, maybe some of you might not find that to be so great, but my point is that Chicago is rarely boring.)  A few block west down Lawrence Avenue, there is a store that has signs in English, Spanish and Arabic.  Apparently you can buy hats, bags and phone cards there.