Soundtrack in my head: Foo Fighters "Times Like These"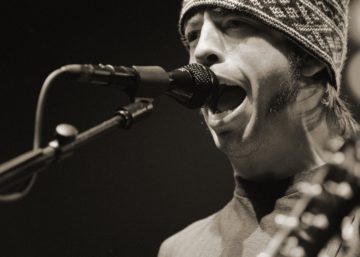 I just recently bought a Foo Fighters CD that had the track "Times Like These". Actually, it's what they call a DVD/EP which they released three years ago. And the song has helped me through some very difficult times.
Initially, I had mixed feelings about the Foo Fighters. As a teenager in the 80's, I joined others in rebelling against what I considered to be tired and rather negative hard rock that had characterized much of the 70's. Recently I saw a documentary called "Made In Sheffield" which chronicles the late 70's and early 80's the development of synthesizer bands like the Human League, Heaven 17 and Cabaret Voltaire, among others. It was clear that they were out to subvert the old rock order. There is one scene in the documentary where someone makes a statement by taking an electric guitar and hurling it off an elevated walkway.
Of course the guitar never disappeared, but for most of the 80's it was different than it had been before. Whether it was new and unique guitar sounds from U2, New Order, or Prince, the jangly-folky pop of R.E.M. and it imitators, or the richly textured, otherworldly sound of the Cocteau Twins (my all-time favorite), the guitar was something more than just an instrument to crank up to eleven.
So when I first heard Nirvana, I thought "Yuck! It's warmed-over Black Sabbath!" I felt frustrated as the record industry and the music press seemed locked in a goose-step towards grunge, a two-dimensional world in which music "sucked" if it didn't "rawk." I felt that Seattle grunge represented the death of Alternative Rock, with the band members of Nirvana as its pallbearers. However, I did develop a grudging (grunging?) respect for the late Kurt Cobain, born just three months before me. I have a copy of their "Unplugged in New York" CD, which I consider to be a classic. It features acoustic (and therefore non-abrasive) versions of their songs as well as some folk and blues standards by other artists, including an old Leadbelly song.
Since Dave Grohl was the drummer for Nirvana, I didn't know what to make of his next band, the Foo Fighters. But they've grown on me over the years. I was pleasantly surprised by the Foo Fighters' song "Learning to Fly." And then while driving into Chicago one day in 2003, I heard the acoustic version of "Times Like These," which gave me chills down my spine. That year was probably the most difficult year of my life, dealing with unemployment, aggressive creditors, and a struggle to survive on temp jobs. As I struggled to establish a new life in Madison, the following lyrics really hit home for me:
"It's times like these you learn to live again
it's times like these you give and give again
it's times like these you learn to love again
it's times like these, time and time again"
I had a really difficult time finding the acoustic version of the song, though. I do also like the rock version, but the acoustic version is, well, sublime. The only place I could find it was on a DVD, but I did not own a DVD player until recently.
The DVD features the song "Low" with what I'd consider to be a quite ugly video. It features the shaky camera angles common to "The Blair Witch Project" with Grohl and guest actor Jack Black looking like the evil characters from "Deliverance." In the video they rent a motel room, drink heavily, and dress in women's clothing. Not a pretty sight.
But there are also two rock versions of "Times Like These" in addition to the acoustic version. One video seems to have an anti-materialistic theme. It starts with a little girl tossing a handheld video game off a bridge, followed by two young people throwing their TV's over the edge, and before you know it, the bridge is full of people throwing things down, climaxing in two cars creating spectacular explosions when they crash into the ground below, and yes, even a house goes overboard. The UK version showcases them performing over a background of the digital psychedelic images, bright and symmetrical, looking like something out of the 60's, except amped up and speeded up to a higher level.
The acoustic version features Dave Grohl in a candle-lit studio by himself, and yes, I still get goose bumps listening to it. The rock version is fast and high-energy which helps make the message powerful, but with it slowed down and softer, every lyric is heard more clearly and the song becomes more meaningful.
Some of the 90's bands that I thought to be nihilistic and negative have mellowed out or changed. Many have gotten involved in activist efforts—the Foo Figthers themselves played "Times Like These" just three blocks from my house at a massive John Kerry rally right before the 2004 presidential election.
So I guess that in some ways, music has gone full circle, as it often seems to do—time and time again.  And "Times Like These" is also helping me go full circle