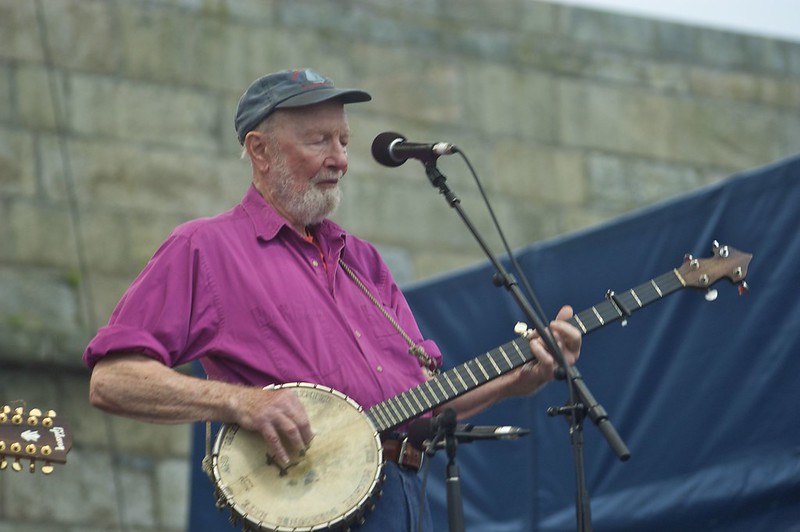 Come gather 'round, club kids and pay ye attention. There's someone you should know about. A piece of history died earlier this week. Someone as controversial as any rapper or rock star, yet someone with immense influence on musicians even today. I'm talkin' Pete Seeger.
Pete Seeger was a political activist from an early age and sang union songs, and even songs supporting the Spanish Republicans in the Spanish Civil War. He performed with folk legend Woody Guthrie as a member of the Almanac Singers, but after a few years the group was blacklisted for their activism. In 1950 former members of the group reformed as The Weavers, and despite more conservative attire and more indirect social commentary, the group was blacklisted, and Seeger was called before the House Un-American Activities Committee. He refused to plead the Fifth Amendment and refused to name personal or political associations on the grounds that this was in violation of the First Amendment. He was convicted of contempt of Congress in 1961, and sentenced to ten one-year terms in jail (to be served simultaneously) but his conviction was overturned in 1962.
In any case, he continued to write songs. "Where Have All The Flowers Gone" was picked up by a new generation of folk artists, including the Kingston Trio and Peter Paul, and Mary. The latter version is one of the first songs I ever remember hearing as a child. Of course, I did not know the name or meaning of the song or who Peter, Paul and Mary were, but nevertheless, I clearly remember listening to it as a toddler while transfixed by my parents' reel-to-reel tape recorder.
His song "Turn, Turn, Turn (To Everything There Is A Season" was taken almost verbatim from the Book of Ecclesiastes in the Bible and set to music, with a few extra lyrics added. It was picked up by the folk-rock group The Byrds, and reached #1 on the pop charts in 1965. (Some have argued that this song is the oldest #1 charting song in the world–if King Solomon wrote the Book of Ecclesiastes, then the lyrics technically would date back to the 11th century BC).
Soundtrack in my head: Pete Seeger, "Turn, Turn, Turn (To Everything There Is A Season"
In the video below, Seeger appeared a cameo role in Arlo Guthrie's movie Alice's Restaurant. In this scene, Arlo is visiting his father Woody Guthrie (played by an actor) while Seeger is playing music for him. Seeger and Arlo Guthrie end up playing together in a jam session. Seeger and the younger Guthrie performed together a number of times throughout the decades.
Despite writing songs about the Spanish Civil War and performing with Woody Guthrie, Seeger managed to stay topical in 2010 when he co-wrote a song about the BP oil spill in the Gulf of Mexico.
I first learned of Pete's passing from a post on Facebook from an East Coast friend of mine. Some of her friends had actually had the occasion to meet him, including one woman who at 17 had gotten lost on a hiking trail in upstate New York and ended up in Seeger's living room. She described poetry being nailed to the trees on the property.
He died at the age of 94, but according to one grandson, had been active as ever ten days prior, chopping wood on his property.
Related articles
Billy Bragg: 'Pete Seeger made me think: do what you believe in'