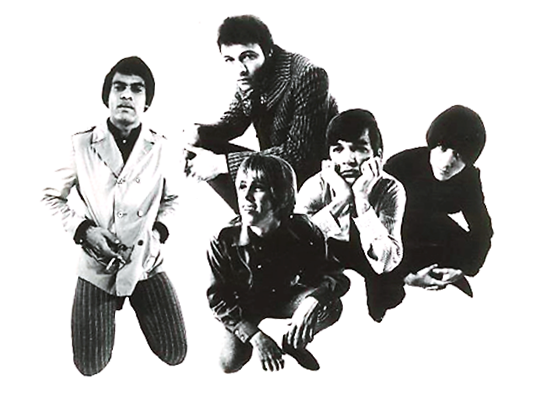 Love was one of the greatest bands that most people never heard of. Like their East Coast counterparts The Velvet Underground, they were considered influential to many musicians in subsequent decades. Love was also one of the first American pop bands to have an interracial line-up, and was part of the same music scene that produced The Byrds and The Doors. Arthur Lee was the sole mainstay of the group.
Love first started playing in L.A. clubs in 1965, and released their debut album, Love in 1966. This opening track was a high-energy, punk-like version of the Burt Bacharach/Hal David song "My Little Red Book," as seen in the video below. (Bacharach reportedly gave Love's version of the song a thumbs-down.)
In January 1967, they released their second album, Da Capo. "Seven and Seven Is," track from that album, sounds like a punk rock song ten years ahead of its time. The video below is from 2003, but is almost completely identical in its angsty vocals, high speed, and abrupt chord changes to what was recorded in '67.
The third album Forever Changes was released in November 1967 and regarded by many as one of the greatest albums of the 60's, but at the time was the least commercially successful of Love's three albums. The album received good reviews, but perhaps it was overshadowed by other famous release from 1967, including the Beatles' "Sgt Pepper" album, the Jefferson Airplane's "Surrealistic Pillow," and debut releases by The Doors (who reportedly opened for Love at least once on L.A.'s Sunset Strip), the Grateful Dead and Jimi Hendrix.
The title for this blog entry is based on a song on this album entitled "The Good Humor Man He Sees Everything Like This." I replaced "The Good Humor Man" with "Arthur Lee" because Lee had a rather unique way of looking at things. Like The Velvet Underground and The Doors, Lee tended to write about darker subjects than what was common among the flower power set But his lyrics were also more poignant, personal, often funny, and hopeful. Lee's lyrics had a strong sense of wit and irony, but it was never the detached, "whatever, never mind" irony of the 90's angry flannel set. The music was an interesting and tuneful blend of 60's pop, folk, R & B, rock, and the rapid chord changes in some of the early songs have caused many to describe them as a 60's punk or "proto-punk" band.
The original lineup of Love broke up shortly after Forever Changes. Lee put together another band, which released the album Four Sail in 1969. While many fans and critics who expected a Forever Changes sequel panned the album, the album had its own significant strengths. This incarnation of Love played a harder, more bluesy rock n roll with some elements of jamming, strong guitar solos and progressive rock elements not heard on previous albums. The band as a whole was arguably more talented than the previous incarnation.
in subsequent years, a number of incarnations of Love, as well as some solo efforts by Lee continued sporadically into the 1990's, but not with the acclaim that the band had achieved earlier.
I was lucky enough to see one of these incarnations in December 1989. At the time. I was living in Los Angeles helping organize the Global Walk and a housemate of mine kept on trying to get me interested in Love's music. I was initially lukewarm about the band, but I let my housemate persuade me to go with him to see the band–being billed as "Arthur Lee and Love" at a club in Malibu. We almost didn't make it to the club in time—we didn't know L.A. very well and thought we could take this little winding road from the Ventura Freeway down to Malibu—not realizing that we were crossing the Santa Monica Mountains as opposed to an extension of the Hollywood Hills. After 45 minutes of driving through hairpin turns, we made it to the club.
I don't remember the name of the club. It was quite a small club. (A tribute website says that they played at the Trancas Club in Malibu on December 30, 1989–however I was in Chicago for the holidays then. It could be that they had the date off by a week or two.) Arthur was there with a completely different backup band than the one that had made the more well known albums from the late 60's. It was rumored that a couple former members of the 70's pop-punk band The Knack were in the band backing him. The opening band for Love did a tribute with a cover of Love's frenetic version of Burt Bacharach's "My Little Red Book."
When I saw Arthur Lee for the first and only time, he looked like a cross between a blues musician and a wizened professor. He was in his forties and his face had its share of lines. He poured all his heart into his songs. At one point some young long-haired guys broke into a fight on the floor in front of the stage while Arthur sang "Signed D.C.," and the fight seemed to really upset him. At the end of the performance he exhorted the audience to turn to Jesus.
In the subsequent decade, Arthur Lee had his share of hard knocks. In 1996 he was convicted of negligent discharge of a firearm. Reportedly no one was injured and no property was damaged, but due to previous convictions, he was sentenced to twelve years in prison under California's "three strikes" rule. However, he was released in December 2001 and an appeals court reversed the conviction due to the prosecutor at Lee's trial being found guilty of misconduct.
Upon his release, Lee put together a new version of "Arthur Lee and Love" that included all four original members of Baby Lemonade. Some members of that band had played in another version of "Arthur Lee and Love" prior to Lee's incarceration in 1994. The new band played "Forever Changes" in its entirety before enthusiastic audiences in Europe and North America—often accompanied by a full string and horn section. It could be said that these tours revealed the depth of the public acclaim he had achieved by this time–recognition that had been largely denied him in previous decades. The video below demonstrates the triumphant nature of his tour–the audience in the video was dozens of times larger than in the little club where I saw him.
Unfortunately, it was revealed in 2006 that he was battling leukemia. A number of benefit concerts were set up to help pay his medical bills. The most notable benefit concert featured original Love guitarist Johnny Echols who had also toured with the last incarnation of Love, as well as Robert Plant, Ryan Adams, Yo La Tengo, and Garland Jeffreys. Despite aggressive treatment, Lee died in August of that year.
I feel lucky to have seen Arthur Lee perform live with an incarnation of Love when I was in L.A., even though I didn't understand at the time just how significant and influential this musician was. When I think about my own musical tastes and influences, Love's music involves many of those influences. Folk, psychedelic, punk, blues, the interracial influence, and a willingness to occasionally visit darker places and examine them but without falling into despair.