6 Masa'il 167 B.E. (Baha'i calendar)
Soundtrack in my head:  Cloud Cult, "Chemicals Collide"
It's true. I ended up walking a mile through a blizzard at midnight for a group of people I'd only become acquainted with 24 hours before. A group called Cloud Cult.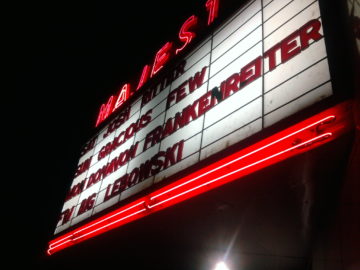 It started while I was waiting in line outside the Majestic Theatre for the Josh Ritter concert about a month ago. I didn't really have too much to do except stare at the posters for upcoming shows.  I found my eyes drawn to a poster for an upcoming concert by a group I'd never heard of called "Cloud Cult," who would be performing at the Majestic on December 11. 
During the next few weeks, I walked up King Street every morning from the bus stop to Capitol Square to catch another bus, and each time, my eyes would be drawn to that same poster. I kept on making a mental note to check out their videos on YouTube, but I would keep on forgetting to do so.
Upon closer inspection of the poster, I noticed that Cloud Cult had eight members–four men and four women.  In my mind, any rock group that has more than five members must be up to something interesting. 
Finally, on the night before the concert, I decided to check out the Cloud Cult online.  The first video I found was the one for the song "Chemicals Collide"
I was blown away by the song. 
Then came this video.
I did a little bit of reading up on the group, and they were even more interesting than I'd imagined.  The group consists of a lead singer/guitarist, a bassist player, a drummer, a keyboardist, a violinist, a cellist and two painters.  Yes, I said painters.  Their shows include two visual artists who create brand new paintings during each show, which are then auctioned off at the end of the show.
Cloud Cult has made remarkable efforts to be eco-friendly. They've turned down major label offers and work with their own label called Earthology, located on their organic farm in Minnesota, powered by geothermal energy and built partially from reclaimed wood and recycled plastic. They developed the first CD packaging made from 100% post-consumer recycled materials, and all their merchandise is either made from 100% post-consumer content or certified organic materials.  They tour in a biodiesel van with solar panels.
The lead singer, Craig Minowa and his wife Connie (one of the painters) unexpectedly lost their two year old son in 2002.  Cloud Cult's songs have been strongly influenced by this tragedy, and on big "meaning of life" themes.  They remind me a lot of the Polyphonic Spree because of that theme, because of what seems to be an endless spiritual pursuit of light and love, and also because of the symphonic quality of their music. The main difference between the two bands is that Cloud Cult's sound is a bit more indie rock and experimental.
Impressed, I decided to buy a ticket for myself for the December 11th show.  As the day progressed I began to have second thoughts.  Outside we had freezing rain which was quite unpleasant, and a blizzard warning for the evening.  Nevertheless I chose to take the bus to the show. The buses were running late, and I ended up striking a conversation with two young women in the bus shelter–it turns out they were on their way to see Cloud Cult too.
Cloud Cult's show was quite spectacular.  The opening song was a bombastic crescendo of drums and a wall of sound and the artists began their paintings by spinning their canvasses on the easel and randomly throwing on paint. During the course of the concert they transformed the splatter into real paintings–both of them were portraits of women. Band members would often switch instruments, with the painters contributing backing vocals, and other instruments like clarinets, french horns, trombones,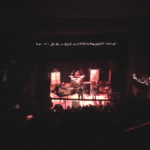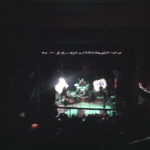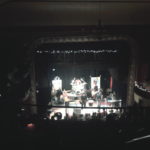 I was surprised by how LOUD the concert was.  During the fourth song I went down to the bar to order a club soda and a pair of earplugs.  I've never used earplugs at a show before, despite having seen punk bands like M.D.C., The Descendents and Naked Raygun during my youth.
After the show ended, quite a bit of snow had accumulated on the ground.  I checked my Droid phone to see if a bus was coming, but it told me that all buses had stopped running.  I could have waited for a cab, but I knew that it would probably take less time for me to simply walk the mile home from the Majestic.  I was  ufficiently dressed for the weather.  The wind was blowing and sometimes I found myself trudging through six-inch deep snow on unshoveled sidewalks, but I was unfazed and relatively comfortable.  It was worth the trip.  The show was one of the best I'd seen in years, and a new band has joined my list of favorites.