11 Jamal 167 B.E. (Baha'i Calendar)
Soundtrack in my head:  The The, "Uncertain Smile"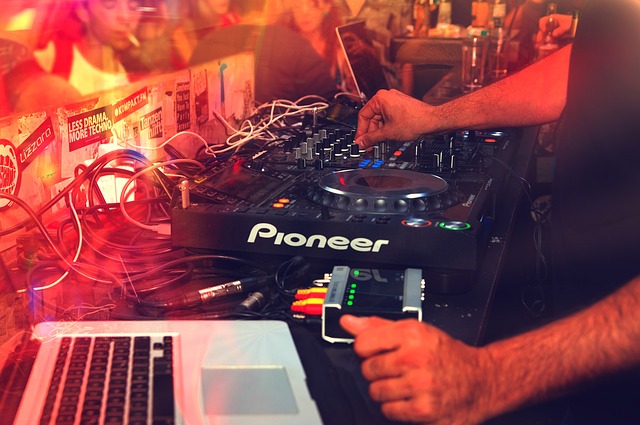 I spun last night what was definitely one of my best sets ever.  One person told me she thought it WAS my best DJ set ever. I definitely would say my set was almost flawless, and I felt very tuned in with the crowd.  But a big part of the success last night was the crowd itself–there was a very positive energy.  And even when I tossed out a couple of tunes that weren't necessarily the best, they were pretty forgiving, because they were having such a good time.
Really, I did very little in preparation for the set. The guy who brought me into DJ'ing strongly recommends four hours of preparation.  But then again, I think I prepare in different ways.  I listen to a lot of music on my MP3 player during the week, and I set it on shuffle.  While my collection includes all style of music, both danceable and non-danceable, sometimes my MP3 player finds a gem that sounds just perfect.  Probably three of the tracks I played this week were things that grabbed me while doing some leisurely listening.  They were all tracks I'd heard a number of times before–it's just that for some reason this week the track grabbed me in a way they hadn't before.
One piece of feedback I got from several people during my last set was that there were some tunes I had that were starting to get overplayed.  I'd worried that it would come to that at some point.  I think a lot of times, I felt the need to play something I knew would work–either to pick up the energy or keep it from dissipating, but I now see that the benefits only last for so long.  There were probably only two tracks that I had played before. 
My set from last night (to the best of my memory) was as follows:  H.U.V.A. Network–"Dissolving Time," Arkestra  One– "Shine," William Orbit–"Study In Time", Levi Tafari–"Duboetry," Thievery Corporation–"Lebanese Blonde," Single Gun Theory–"From A Million Miles," J Boogie–"Do What You Love," The Beta Band–"I Know," United Future Organization–"Stolen Moments," Moby–"Run On," Saint Etienne–"Spring," Burning Sensations, "Belly Of The Whale," Deee-Lite–"Good Beat," Madness–"Our House," Exodus Quartet, "Tribute To Mr. Cool," Thievery Corporation–"The State of the Union," Madonna, "Ray of Light"