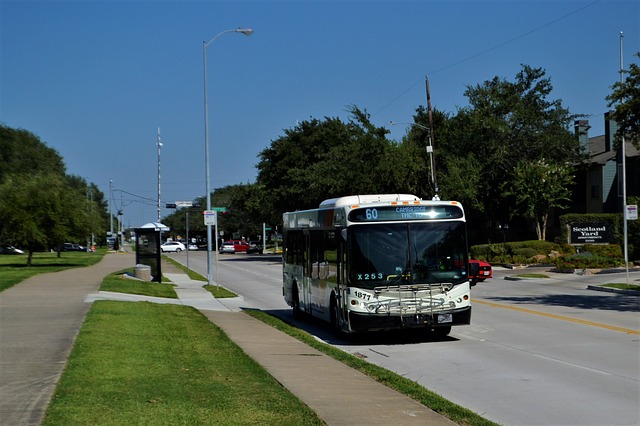 For most of the last eighteen years, I have been dependent on public transportation.  At times it has been a financial necessity, but it has also been a conscious choice.  
The environmental impact of the automobile is well-documented.    A fact sheet from the EPA states that "driving a private car is probably a typical citizen's most 'polluting' daily activity".  Autos account for 33% of carbon dioxide emissions and are thought to be the primary contributor to global warming.   
A car-free lifestyle has numerous advantages. I don't have to worry about car payments, repair bills, rising gas prices, maintenance, shoveling out the car in the winter, or road conditions.
Living without a car was pretty easy when I lived in Chicago.  The el trains traversed the city quickly and efficiently, and generally ran every three to ten minutes.  The buses tended to run every eight to twenty minutes.  One could step outside during most hours of the day and count on catching a bus or train within a few minutes.  But the suburbs were harder to get to.  With the exception of a few suburbs immediately adjoining Chicago, it was necessary to take the commuter train and then be picked up by somebody with a car.  
Public transportation in Madison presents a greater challenge for the car-free lifestyle.  With very rare exceptions, buses run no more than once every half-hour.  Many routes run only once per hour.  It becomes necessary to build your schedule around the buses, rather than the other way around.  Buses run less frequently and stop altogether in the late evening.  And it takes longer to get from point A to point B.  For example, driving to work would take me about 20 minutes door-to-door,  but to travel by bus, I must take two buses, requiring about 45 minutes.   
And it's even harder if I were to go to the nearby suburbs.  Middleton has okay bus service and  Fitchburg has sporadic service. Other nearby suburbs like Monona, McFarland, Sun Prairie and Waunakee are not accessible by bus at all.
Both Chicago and Madison have certain neighborhoods that are better suited for living without a car than others.  In Chicago, these neighborhoods tend to be along the CTA train lines, since CTA trains are the most efficient way to get around the city.  The neighborhoods within three miles of the lakefront are particularly well suited for living without a car because so much of what one needs is within walking distance.  In Madison, the neighborhoods best suited for pubic transportation are the campus area, downtown and the Isthmus.
Car sharing is often touted as a viable alternative.  With car-sharing, one can reserve a time on a fleet of shared cars parked at strategic locations around the area.  For example, one can reserve a couple of hours for a shopping trip.  It might be economical for some people—particularly those who make frequent shopping trips where a car is necessary, but I haven't personally found it worthwhile.   Once I used the service to take my computer in for service on the far west side of town, and it cost me $20 for the privilege.  The second time I took it in for service at the same place, I took the bus, but it was an hour trip each way.,  Another time, I was invited to a party in McFarland, but couldn't get a ride there.  I calculated that a three- hour appearance there would cost me $30, so I declined the invitation.
Bicycling is another alternative.  Madison is a very bike-friendly city.  There are some destinations in the city that I can get to faster by bike than by bus,  It's a positive reflection on the extensive network of bike routes in the city, but it's also a negative reflection of our bus system.  Bicycling has its limitations though–a lot of times, I don't want to arrive at my destination hot and sweaty.  And the roads aren't the safest for biking in the winter,
If I feel the need to get away from the city and hit the open road, renting a car for the day is a viable option.  I've done that a number of times–I used one a couple of weeks ago to go to the Baha'i Temple and various points in southwest Wisconsin.   It runs typically around $40 per day plus gas.  I carry a non-owner's auto insurance policy so that I don't have to pay for the insurance offered by the rental car company.  
Madison Metro estimates that the average person would save $7,000 a year by going without a car and depending on public transportation.  Based on my experience, I would say that is an accurate assessment.  But living without a car in Madison does require sacrifice.
According to the 2000 census, only 7% of Madisonians used public transportation to commute to work.  That is surprising in an eco-friendly city like Madison.  It's because Madison Metro has yet to provide an attractive alternative to the car.  
Many people who might be interested in using public transportation find Madison Metro difficult to use.  Buses running only once every half-hour simply are not a viable transportation alternative for most people and the bus routes in Madison are rather confusing.  By the time one figures out how to get from point A to point B on Madison Metro, they could have easily reached their destination by car.
I intend to write more in this blog about my day-to-day experiences living without a car.  I want to show the both the positive and negative aspects of this lifestyle.  My hope is to create more awareness of the possibilities for public transportation, as well an awareness of what needs to be improved.