This weekend we held a potluck dinner to celebrate the July birthdays in my co-op house—of which there are three. Mine was the 7th, another person's was the 19th and the baby in our house turned one on the 16th. It was also an opportunity to give kind visitors the opportunity to see how I live.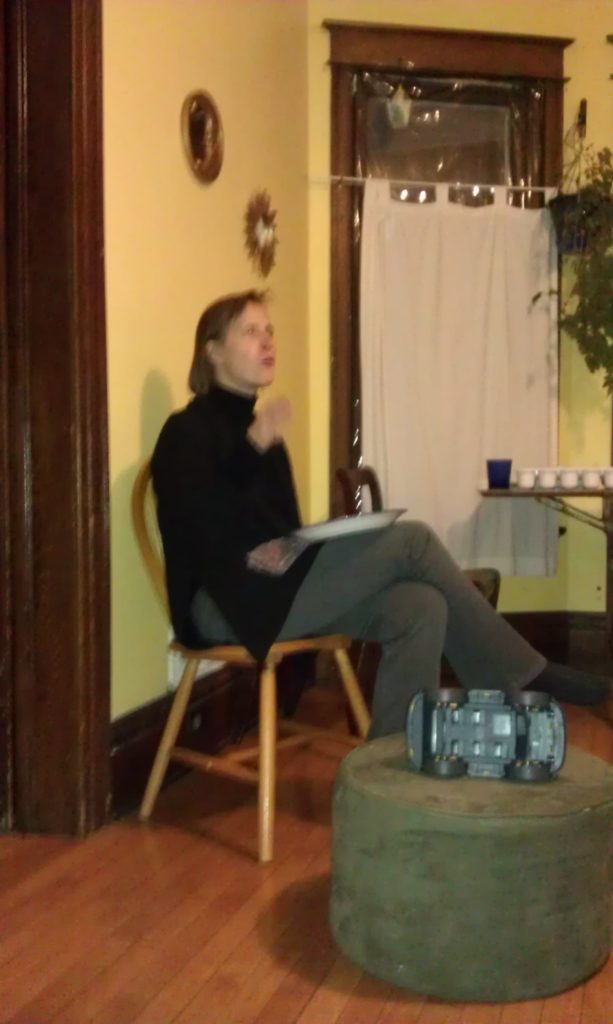 One big difference between this co-op and the more student-oriented downtown co-ops is that we have potlucks, not parties. With some of the downtown co-ops, the parties don't even begin until 11 p.m. But half our house doesn't even drink and we also have a child's bedtime to deal with. (Not to mention my own, which lately has been 9:30 p.m. during the week and 10:30 during the weekends.)
A wide variety of friends came to our potluck. Some have been here a number of times, but others have never seen a co-op before, and it's always interesting when someone sees a house like ours for the first time. I like to make it an educational experience, with a purpose–i.e. "The Museum of Cooperative Living."
I always give a tour, showing the common areas, the kitchen, the porches, the garden in the back, and my bedroom and the upstairs area. I like how we're able to debunk common myths about co-op houses—showing that we're not just for students or "hippies," that we have wide age range (mid-20's to late 40's, plus a child), and showing how nicely we keep up the place. I always get comments about the beautiful woodwork in our house, and visitors are often surprised at the number and variety of people that live here.
I know that by and large most people who visit here would not imagine themselves living the way I do. That's fine–I'm more interested in giving people more of an idea of exactly how I live and how I manage to pull off this lifestyle. Maybe for a fleeting moment they might try putting themselves in my shoes and imagine what it must be like. At the very least, people will come away with a more concrete idea about cooperative living.