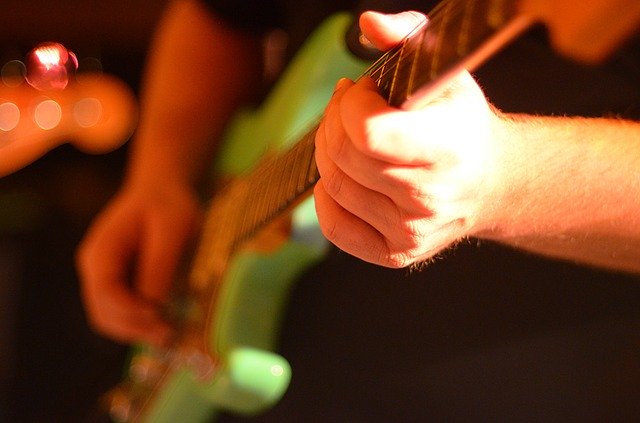 The other night a group of people from a local Meet-Up group I occasionally hang out with organized something they called an "Amateur Musicians Night." The idea was for people to bring their own instruments and music to play and share with the group. It was emphasized that participants need not be professional or even necessarily performance-ready—the idea was to simply have fun. I imagined it would be more of an open mic than a jam session
I have sort of a funny relationship with music. I put a lot of effort into developing myself as a musician when I was young, but, starting in my early twenties, I put those efforts on the shelf. For about five years as a child, I took piano lessons and was quite serious about developing myself as a musician. But I quit at the age of eleven because I'd lost interest in it. I took some guitar lessons for a couple of years afterwards. Then in high school I bought a Roland Juno 6 synthesizer and had ideas of joining a band. I jammed with a couple of bands in college, and took a semester of jazz piano.
The jazz piano class was interesting. I was made to spend weeks practicing seventh chords that are frequently used in jazz, even though I'd known what a seventh chord was since the age of seven. Then, one day, the instructor sat next to me at the piano and started to play a bass line in the lower registers, and he said, "Okay, play." "Play what?" I asked. "No, just play." I again asked, "What should I play?" He said, "Just play what comes natural. Play what sounds right," and before I knew it, I was improvising.
But I didn't take it beyond that. The second band I played with in college kicked me out due to me being rhythmically challenged, and I didn't take any further jazz piano lessons. I still own the guitar and synthesizer. The synthesizer is in a basement of a friend's house—he's turned part of his basement into a studio and he likes to hold jam sessions down there sometimes. The guitar has stayed with me—an old Harmony guitar that my grandfather restored years ago. I pick it up sometimes, but don't often do much more than tune it.
So when I heard about this "Amateur Musician's Night," I had some hesitation. I rarely pick up the guitar, and am at the point where, at best, I remember five major chords and a couple of minor chords. But I decided to take my guitar with me to the event, anyway.
We met in the back of a coffeehouse in my neighborhood. When I arrived, I was surprised to discover that the organizer of the event was setting up a stage with electric guitars and a synthesizer. I was expecting a bit more of a fire circle type of event involving just acoustic instruments. As I explained later, I said, "I thought we were going to do the Kumbaya thing."
What ended up happening was something more resembling karaoke, except that people were invited to come up and play instruments as well as sing. Initially there were almost no takers, but a couple of guitar players came up, plugged into the amps, and sat in a a couple of sessions.
At one point a guy got up and initiated a blues jam. As I watched three guitarists jam, I realized that I was familiar enough with blues scales to go up and join them on the keyboards, and after some hesitation, I finally did. I was nervous and stiff as heck. I hadn't improvised like this since college and I'd never done so in front of an audience, which in this case numbered about fourteen people. But I eventually relaxed a little bit and had some fun. I came up again later for a jazz jam. I realized I'd forgotten a lot about jazz chords—I never quite knew what key we were playing in, but I played what I thought sounded right.
To my surprise, the guitarist who initiated the blues and jazz jams complemented me on my keyboard playing. I didn't expect this at all.
I've been DJ'ing now for almost two years. That was my first foray back into music. I'm now thinking of calling my friend who has my keyboard to see if he'd like to jam sometime.
I've also been nursing this fantasy of developing my own little home studio. Nothing fancy or expensive. It would include a dual CD DJ mixer unit so that I could practice DJ'ing at home. I also have a copy of Audacity, a sound mixing program. I've thought about bringing my synthesizer home, though I'd have a difficult time finding room for it in my bedroom here. I know of a website that encourages people to mix their own music using available MP3's provided on the site, and I've even entertained ideas of even mixing my own music.
I don't know if I want to go in this direction or not. It's a little bit of an investment, and I often ask myself if this would be the best use of my leisure time. I guess it's something to think about and pray about…