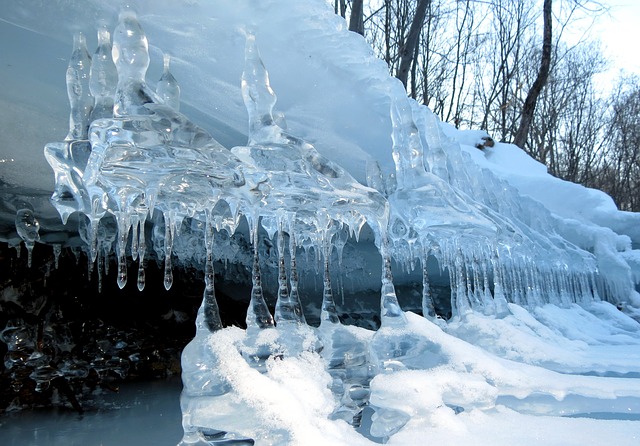 I woke up this morning to the sound of pitter-patter.  At first I thought it was the mouse that accidentally crawled onto my bare foot late last night as I was typing away, scaring the bejesus out of both of us.  I thought, "Oh, no, not again." 
I listened more closely.  No, the pitter-patter it was too consistent, and it was coming from the windows.  It's raining out, I realized. I lay down in bed listening more closely.  It was a pleasant thing to listen to while still lying in bed semi-awake.  It reminded me of lazy summer mornings.
Then I realized it was February.  I thought, "Oh no, not again." 
I pulled the curtain aside and looked outside.  It did not look pretty.  It was raining out, and the streets were covered with a layer of slush.  The three-foot-high snowdrifts were mixing with the rain and turning the sidewalks into slushy canals two to three inches deep.  The few pedestrians who were on the street were trying to find solid parts of the sidewalk to walk on as if they were looking for rocks on a shallow lake.
I checked the Wisconsin Doppler Radar on one of the local TV stations' websites.  It did not look pretty.  There were big diagonal bands of green, pink and blue engulfing the state.  Green means rain and blue means snow.  As for pink?  Pink is not good.  Pink means don't plan on driving. Pink means freezing rain, or a mixture of rain and snow. The radar loop showed the diagonal bands travelling lengthwise from southwest to northeast.   Madison was just crossing from green to pink and would stay pink for a while.  And seven to ten inches of snow are predicted for later.
I hated to part with my Sunday morning routine.  It actually has been a few weeks since I've been able to take bus to the Bay Creek Neighborhood to enjoy coffee and journal-writing at a cafe, followed by devotionals at the nearby Baha'i Center.  But there's a Baha'i dinner and devotionals event just three blocks from me tonight, so I figured that it would make just as much sense to go there instead, and not mess with getting my boots wet. 
Then I got a phone call from someone with the Local Spiritual Assembly notifying me that devotionals at the Baha'i Center would be cancelled.  This was the second week in a row devotionals were cancelled–last week it was due to sub zero temperatures and predicted wind chills of -40 degrees.
Later on this morning, I discovered that Madison Metro pulled all its buses off the road at 8:30 a.m.  This surprised me.  If it weren't for the devotionals being held for me three blocks from my house, I probably would have braved the weather to come down there.  I didn't even think of checking the Metro website to see if buses were still running.  They stopped a half hour before I would have ventured out, so I would not have sat there out in the rain or take the bus only to be unable to get home. 
Freezing rain and ice storms are weird.  They usually aren't accompanied with dark clouds or thunder or high winds. When looking outside, there isn't anything that really suggests that they might be dangerous. They kind of creep up on you.  In many ways, they are more insidious.  Before you know it, ice covered branches are falling down, it's next to impossible to drive or walk outside, and you have power outages. 
So I'll stay inside, grateful for the heat and the comfort of home.  This winter has set record snowfalls for Madison  and I've had to contend with some bus stops buried under three feet of snow.  Yet, despite bitching and moaning about winter earlier this year, I've gotten to a point where I find myself basically just accepting what comes along.  Maybe it's because the frequent snowfalls make the landscape turn white again, instead of the ugly gray and black hues that dirt and pollution impose on the snowy landscape.  Then again, co-workers have told me they wish they could take the bus like me instead of drive, and I'm inclined to agree…