Soundtrack in my head:  Charlie Byrd, "Angels We Have Heard On High"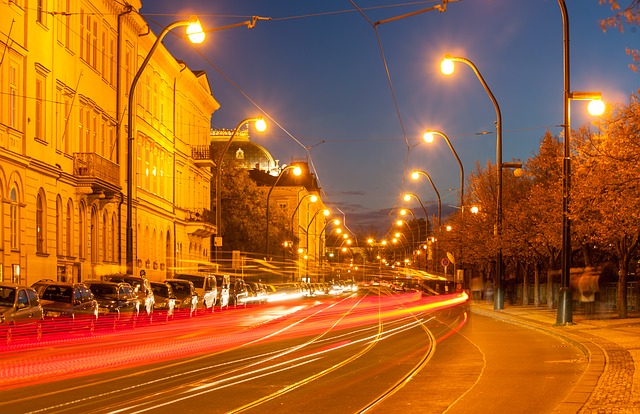 At the end of 1989 I was fresh out of college, living in Los Angeles working for the Global Walk.  When I flew home from Los Angeles to Chicago for Christmas, I called ahead of time and reminded my parents to bring my winter coat with them when they picked me up, because I'd had no reason to bring it to Los Angeles with me.  That was a good call–it was 86 degrees when I took off from LAX and -3 when I arrived at Midway.  And the orange street lights greeted me when I arrived.
The Walk was only going to be a temporary project that would conclude at the end of the following year, and so I was beginning to think about where I might live after the Walk ended.  I did not think it would be Chicago.  Between eighteen years in the Chicago suburb of Oak Park and four years in Champaign-Urbana, I felt like I'd done my time in Illinois and it was time for me to move on.
To my surprise, I found within myself a longing to return to Chicago as my parents were driving me home.  Now, on the outset, it did not seem like there was a good reason for me to react that way.  The route between Midway, and Oak Park is more than non-descript.  Cicero Avenue goes through some of the grittiest, ugliest industrial areas of Chicago.
What got to me was the orange street lights.  Seriously.  Chicago's street lights are a weird, incandescent orange, and that made it very, well, Chicago.  I have many memories of various adventures under those street lights–excursions to different parts of the city to visit family, hang out with friends, celebrate the Fourth of July or New Year's.  And it was all coming back to me, even among the gritty parts of the city near the Stevenson Expressway.
The other thing that I found affecting me was the radio show "The Midnight Special" on WFMT, which my father was playing on the radio in the mini-van.  (I mentioned this radio show in a previous post.)  In addition to providing awesome Christmas music, it also feature mostly folk music, but often with a Chicago flavor, and sometimes interspersed with brief comedy sketches and even the occasional literary reading.
So, as we were passing not too far from the largest wastewater treatment plant in the world, I found myself getting soft-hearted, sentimental and almost teary-eyed.  Eleven months later, I moved back for good, or at least the next twelve years.
Why I left Chicago for Madison later on is another story, too long to post right now, but let me just say for now that Madison did and still does feel more like home to me.  Actually one thing that probably helped me decide to move northwest to Madison was the discovery that Madison, too, has orange street lights.
Chicago was the center of the universe as far as my family was concerned.  Perhaps 80% of my family and close cousins lived here.  But with my grandparents and my mom having passed away, an uncle, aunt and cousins having moved elsewhere and my dad now living in Albuquerque, only my sister remains here in the Chicago area, along with some third cousins.
I'm in my sister's apartment right now.  My dad's visiting here, too.  We actually exchanged Christmas gifts last night because she and her boyfriend headed out this morning to see her boyfriend's parents in Michigan.  We saw some cousins on the South Side a couple of nights ago and my dad and I will be seeing some other cousins on Christmas  Day.
I'm back in the neighborhood on Chicago's North Side where I used to live and where my sister still lives.  It's funny.  After nearly five years in Wisconsin, I don't get the same feeling about Chicago being home for me like I once did.  I feel like I have returned to Chicago, but I haven't returned home.  I'm not being immersed in my past, but it's an interesting and illuminating visit to my past.  The details of which I will save for another post…