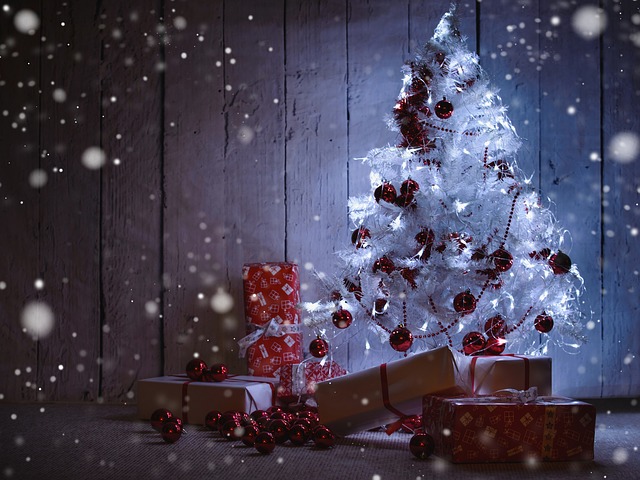 A co-op Christmas can sound like a contradiction in terms. I'm a sentimental fool that still gets misty-eyed over chestnuts roasting over an open fire and who lets his head resemble that of a bobble-head doll when hearing the tune to "Carol of the Bells."  The smell of fireplaces and burning wood in the cold night and the moonlight over the snow covered hills of Wisconsin, and the Christmas displays in Olin Park. I just want to roll around in it all of it like a dog rolling in…um…holly berries.  Yeah, holly berries.
But it's kind of tough to get into the holiday spirit in my co-op house—and I'm sure this is true of most co-op houses in Madison.  Most people in our co-op house go elsewhere for the holidays, and I'm no exception—I'll be at my sister's in Chicago for almost a week.  So basically, the fireplace and the hanging stockings thing happens elsewhere for just about everybody.  If it even happens.
Also, we have to be a bit careful when it comes to holiday decorations, since we have a diversity of religious beliefs in the co-op house.  At least three people in the house, including myself, identify with a religion other than Christianity, and many others are agnostic and atheist.  Co-op people tend to be more aware of the darker sides of religious history and the over-commercialization of Christmas, and are understandably a bit reluctant to bring it into their homes. I can see people having images of a Christmas tree serving as a Trojan horse to sneak in religious zealots and Macy's gift certificates.
One housemate expressed a few initial misgivings about decorating, but realized later that this could be an opportunity for multiple religious expressions.  I asked another housemate who was Jewish, and she said she had no objections to holiday decorations.  I raised the idea about religious expressions from multiple faiths, and suggested that maybe we could include a menorah, even though I understood we're already well into Hanukkah.  She replied, "Or I could hang a gefilte fish on the tree."
Another housemate is somewhat of a Christmas sentimental fool like me, so we both went through the holiday decorations that I've collected over the years and did a little planning for how we'd decorate.
We decided we would get a small tree this year. I forgot that most people assume that this means a live tree.  I assume the opposite because I grew with fake Christmas trees due to my mother being allergic to real ones.  (The first time I saw a decorated live tree in someone's living room.  I thought it was creepy.)  But my housemate told me the week before that she saw trees being sold someplace along East Washington.  I began to get excited about the idea of actually picking out a live tree, since I've never done it before, and I said that this could be a real adventure.  She looked at me kind of strangely and said, "Um, it's just on East Wash."  She explained that when she was a child, her family would actually go out into the woods and chop down a tree.  A very different childhood from mine–us city kids were definitely deprived.
On Saturday morning I volunteered to put in some overtime at work, and my supervisor was kind enough to give me a ride home.  I told her about our planned tree excursion.  But as I thought about it a little later, I realized that a live tree might create problems for our house.  Most of us will be gone for at least part of the holidays, and that would mean at some points few people available to keep the tree watered and the pine needles swept.  So my housemate and I agreed that a fake tree would be best, and we decided to go to Target to pick up the tree and extra decorations.
We walked around and found the section of fake Christmas trees.  There were a whole bunch on display, and walking through that section, you could, for a split second, imagine that you were in the northwoods of Wisconsin—that is, if you squinted your eyes hard enough and pretended that the fluorescent lights and rows of shelves weren't there.
My housemate found a humble looking but pretty little three foot fake tree that could fit neatly on a coffee table and be unlikely to offend housemates.  "Look, it's a Charlie Brown tree," she said.
To my surprise, we ran into my supervisor on our way to the check-out line.  After introducing my housemate to her, I showed her the tree that I yanked Paul Bunyan-style out of the ground—er, I mean the skinny cardboard box I picked up from the stack of skinny boxes below the displays.
In the car on the way back, we were talking about Christmas music.  I told her a little bit about the Christmas reel-to-reel tape that my family played every Christmas when I was a child, and I asked her if she liked folk music.  She said, "I think we all listen to stuff that we listened to as a kid.  I myself like old, old school Christmas music."
Old, old school?  I see. That's right—she's a hip-hop fan. I'm still learning this old school/new school hip-hop stuff.  So if "old school" is Run DMC and Kurtis Blow, what is "old, old school?"  Jazz?
"You know, like Andy Williams."
I see.  And Bing Crosby, too?
"Yeah, stuff like that."
Gotcha.
Unfortunately, we couldn't do the decorating together as planned.  My collaborator in this project is a student, and this is crunch time for students.  I didn't want to do the decorating by myself, but I had to be realistic. We agreed to split the decorating, with her doing the tree and me doing the other decorations.  So a few nights ago, I went downstairs armed with garlands, thumbtacks, and two Christmas CD's.
A housemate has his stereo unit downstairs temporarily.  It looks like a boombox, but about three times as big, and it looks like it's aerodynamically designed to leave Porsches in the dust.  In addition to the tweeter, woofer, subwoofer, and other things that go woof, each speaker has what looks like a torpedo tube capable of launching ordnance all the way into Lake Mendota several blocks away.  Peter, Paul and Mary seemed wholly inadequate for this machine, but I gingerly approached it and slipped in my Christmas CD.
I balanced on chairs as I strung the garlands.  Each garland is 20 feet long, which makes it a bit big for individual windows—even the big ones in our dining room.  So I draped it over the top of several windows and across ledges and doorways.  I like how it turned out.  It adds just enough of a splash of color for the room, without it being too tacky.
When I think about it, December is a strange month when you live near a college campus.  Up almost all the way to December 25th, students are crazy-busy with papers and exams.  This is true here and was also true when I was a student a number of years ago.
It kind of takes the enchantment away from the season in some ways, but I think enchantment exists anywhere you choose to look for it.  So, as I told my housemate, even going out shopping for the decorations was special for me.  Squinting one's eyes in the northwoods of Target—who could ask for more?