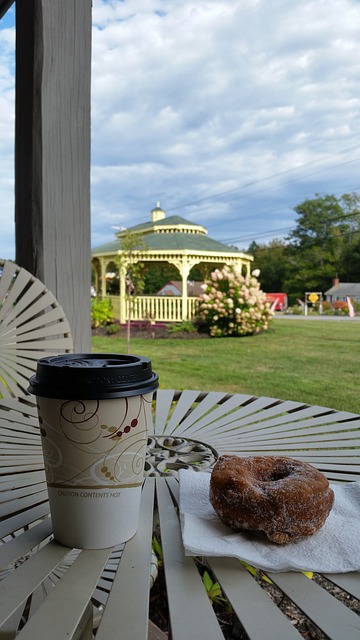 With its 2 a.m. bar time, no one would accuse Madison of being "the city that never sleeps."  However, given the amount of partying that goes on downtown on most Saturday nights, it might be accurate to describe Madison as the "the city that sleeps in"—particularly on Sunday morning.  But now that I've started going to Sunday devotionals at the Baha'i Center here in Madison, my routine for that morning is changing.
I'm dependent on public transportation, and the bus arrives at the nearest stop a full forty-five minutes before the start of the devotional.  I didn't know if the Baha'i Center would be open early or not.  The first time I went there it was a rainy day, and so I decided to stay on the No. 13 bus past the stop and take it to the South Transfer Point, where it would turn around and come back to the neighborhood around 9:45.
But I was surprised to learn from one of the local Baha'i's that a nearby café opens at 7 a.m. on a Sunday.  This surprised me, since even in my old home of Chicago, few establishments opened that early day.  I found myself wondering what kind of café would open at 7 a.m. on a Sunday of all things.  I resolved to find out.
The following week, I let the bus drop me off in the neighborhood around 9:15 a.m.  The bus drops me off on Olin Avenue and Gilson Street.  I love that block of Gilson Street between Olin and Lakeside for some reason—back when the No. 12 bus went by that intersection while taking me to work, I'd always want to look down that block.  I think it reminds me of one of my favorite city blocks in Chicago.  So now, I was getting to walk down that block en route to the Baha'i Center.
I walked to the building next to the railroad tracks where I was told the café was.   The first thing I saw was Lakeside Fibers, a yarn supply store, but then I noticed a sidewalk going to another entrance toward the back of the building, and a sign that said "Washington Hotel Coffee Room."  I opened the door and immediately realized I'd discovered one of Madison's best-kept secrets.
I encountered a brightly lit, clean room with polished hardwood floors and large windows at the opposite end looking over Bernie's Beach and Monona Bay.  On the right side, I was met with a display case of bakery items and a counter where I could order coffee and sandwiches.  The rest of the room had tables and in the center of the room was a large table surrounded by comfortable couches and chairs.  In the far left corner was a door leading to an outdoor deck overlooking the park and the lake.  And on two of the walls were shelves, shelves, shelves of yarn—probably enough yarn to knit a giant blanket large enough to cover Monona Bay and keep the fish residing there warm throughout the entire winter.
I was struck by how lively the café was at 9 a.m. on a Sunday morning.  A knitting club was occupying the center table.  Many other tables were occupied by people reading or typing on their laptops.  Alison Krauss's music played from a small stereo near the counter.
I realized that I was encountering a world entirely different from the one in my neighborhood on a Saturday night.  What I encountered here might be referred to in some ways as the "anti-State Street."  The clear dawn following the blurry night.  A world populated with people who walk outside when the neighborhood is quiet despite it being daylight, savoring the unusually loud chorus of birds who sing with less hesitation than they would during morning rush hour.  People who might actually say "good morning" to you on the sidewalk even if you don't know them.  A world where the drink of choice is not beer, but coffee, hot chocolate, or tea.  A world populated with quiet music, books, spiral-bound journals and lots and lots of yarn.
I now have a Sunday morning ritual that is refreshing to say the least.  I arrive, drink my coffee, sit down to do some writing, and look out over the lake.  Then, forty minutes later, I'm ready to go the Baha'i Center, and partake in the devotions.  The devotions involve prayers and readings—not just from the Baha'i Faith, but multiple faiths, including but not limited to Jewish, Christian, Muslim, Hindu, and Native American.  A study class follows the devotional, and when I come back home, I find myself recharged, and looking forward to the new week.