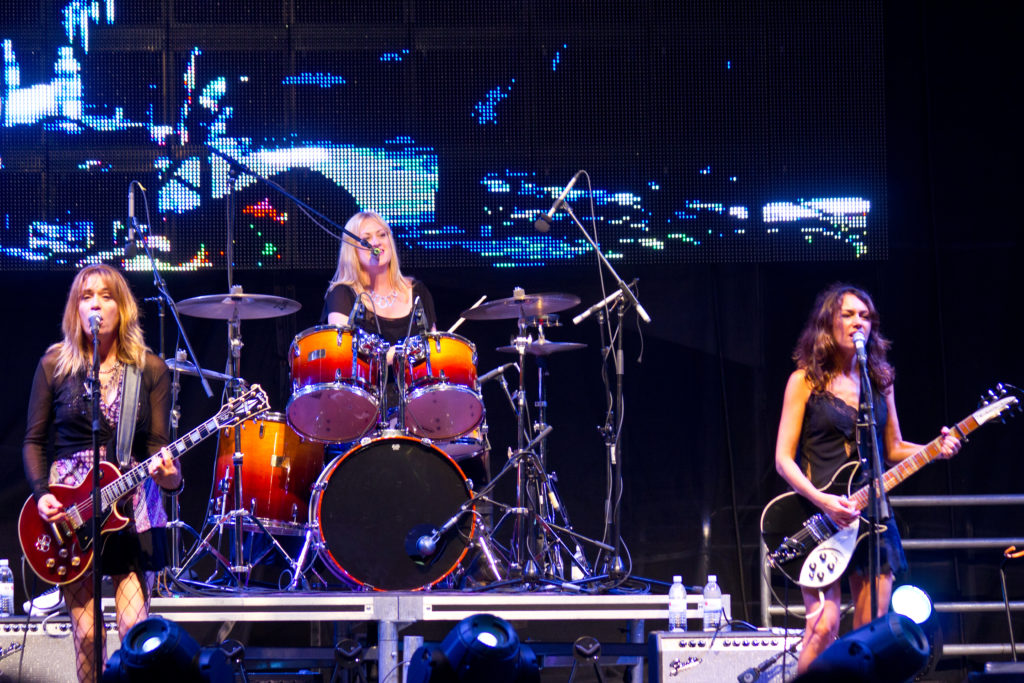 Soundtrack in my head:  The Bangles, "The Real World"
Debbi Peterson yelled out from behind her drum set, "Are you having fun tonight?"  The crowd at the Orpheum cheered loudly.  "We're having fun, too," she replied. That's why the Bangles were there, and that's why the crowd was there.  What other excuse was needed?
I didn't intend for this to be 80's nostalgia week, with back-to-back postings about Prince and the Bangles, but that's how the muse struck me this week.  So what?  I make no apologies for that.  And you can try to throw the proverbial book at the Bangles for the supposedly heinous crime of performing while old (though they really aren't that old), and they will still continue to play hard.  The way they played Friday night, the band had nothing to apologize for.
The Bangles formed in 1980, parted ways in 1989, but got back together in 1999 and have been touring intermittently since then.  I could sense that the band was having more fun this time around, perhaps because they are more free from the crushing pressures that accompanied their stardom and pin-up status in the 80's.
For those of you not familiar with the Bangles beyond "Walk Like an Egyptian," there is a depth to this band beyond the fluff-pop label often stuck on them.  This is a band whose members' personal record collections you would want to rifle through. In fact, some of it might have been playing through the speakers before they got onstage-a lot of mid-to-late 60's stuff like the early Kinks and the Grassroots played through the speakers as their roadies tuned their guitars. They started out in the early eighties in Los Angeles's Paisley Underground music scene, which took 60's rock influences and blended them into an 80's post-punk format-the scene included bands like Rain Parade and The Dream Syndicate and others.
The clip below gives you an idea of their early garage band days.  The song is from their 1982 self-titled EP, before they were signed to a major label. This clip demonstrates the knack they have for discovering 60's pop hooks as if they were clothes at the bottom of a thrift store bargain bin, and finding ways to creatively incorporate them into something more modern.
They opened with "Hazy Shade of Winter," a cover of a Simon & Garfunkel song.  They played it a little less energy than I would have liked. But as the evening went on, the crowd seemed to energize them, and in turn, they energized the crowd even more, and this cycle repeated itself throughout the concert.
What was eerie was observing how similar their stage presence Friday night was to this video clip from 25 years ago.  That's not a bad thing. The three original band members were still there, and they were actually standing in the same places on the stage as they did on the video clip.  Guitarist Vicki Peterson had a powerful stage presence and looked like Mary Tyler Moore circa 1964 and with an attitude.  Her sister Debbi Peterson frequently hammed it up with the crowd, and Susanna Hoffs showed vulnerability and warmth when she sang, and expressed her appreciation to the crowd by blowing kisses.  Longtime bassist Michael Steele was not with them–she was replaced with a woman who looked perhaps fifteen years younger than the rest of the band.  She stood somewhat nervously to the side at the beginning of the concert, but interacted with the band and appeared to have more fun as the night went on.
They played a couple of tracks from a CD they released in 2003 called "Doll Revolution."  Vicki commented afterwards, "It seems like Madison has a lot of highly educated people because a lot of you were mouthing the words from our most recent CD."  I was not one of the educated ones, but I was surprised and impressed with the tracks they played from it. After another one of their more recent songs, a guy in front of me turned around and said, "Hey, did you know that song? That was a really good song."
After that, they played a couple of songs from their very early garage days when they opened for punk bands.  Susanna quipped, "We played fast so we wouldn't get things thrown at us."
It was great to observe the way the band members interacted with each other.  Clearly a big reason the Bangles got back together was because of the fun they were having. They did more improvising toward the end of the concert, and at one point, Vicki and Susanna got down on their knees facing each other and looking up at Debbi behind the drums as she jammed away on a solo. Clearly these are musicians who have played a long time together, and one could sense the bond they have with each other onstage.
I was floored by Vicki's and Susanna's backing vocals on "Going Down To Liverpool"–I was surprised at how angelic and perfect they sounded, even though they were live. It's rare nowadays to see vocalists harmonize the way they do. Susanna, Vicki, and Debbi are each excellent vocalists in their own right. While Susanna seems to get the most attention (as evidenced by a recent Isthmus article), the reality is that they take turns with lead vocals, and during the concert each had about an equal amount of time taking the lead-plus many of their songs have two or three of them taking the lead.
Towards the end of the concert they focused more on their 80's hits.  Vicki, Debbi and Susan each took turns with a verse on "Walk Like an Egyptian," and between the second and third verses, they took a temporary segue into a cover of Simon & Garfunkel's "Mrs. Robinson," just for the fun of it.  They looked no less seductive performing "In Your Room" than they did in the late 80's.  (I realize I still have a crush on Susanna Hoffs.)  Susanna dedicated the encore closer "Eternal Flame" to the audience and swaying Bic lighters and lit cellphones responded in kind.
After the concert let out, I got about a block away from the Orpheum when a young guy with two friends asked me–apparently jokingly–how the concert was.  I replied, "Awesome." I heard him laugh as they passed me, saying, "He actually went to the concert."  Some people just aren't going to get the Bangles. That's fine. Those who did, and who attended the concert Friday night were in for a real treat.