In my still relatively short lifetime, I am astounded at the many rapid changes that have occurred in the way that people play and store music. If people ask me what music format I prefer to have , my reply will be simple—I'll say I prefer the round kind.
My earliest memory as a child was at the age of one or two, sitting on the couch, and being mesmerized by my parents' reel-to-reel tape recorder. The music playing was Peter Paul & Mary's rendition of "Blowin' In the Wind," but for some reason, I was more interested in watching the tape feed from reel to reel as I watched them go around and around. (Note, the tape recorder below was a Sony TC-200, which was a slight older version of TC-260 my parents had).
My parents bought me a record player when I was about five, and part of the pleasure of the music experience was watch the record spin around as well. As I got older, I got less into the visual aesthetic of the tape and record players and more into the actual music itself. The first single I ever got was "Disco Duck," a rather silly hit by Rick Dees that featured someone talking like Donald Duck. (Don't worry, it gets better from there.)
Between the ages of eight and fifteen, I became an obsessive collector of 45 rpm singles. Almost every Saturday, I'd collect my $1 allowance and ride my bike to Little's Record Store to spend it on another single. (It's no longer there, but it used to be on Lake Street near Oak Park Avenue in Oak Park, IL.) As I got older, I'd buy the occasional album as well, but I bought relatively few of them while growing up.
My great-grandfather died when I was fourteen, and I ended up inheriting his old RCA Victrola stereo, which was probably 1950's vintage. It was a beautiful cherry-wood cabinet about waist high with sliding doors on the top—sliding them to one side would reveal the radio and sliding them to another side revealed the turntable. The speakers were on the side of the cabinet.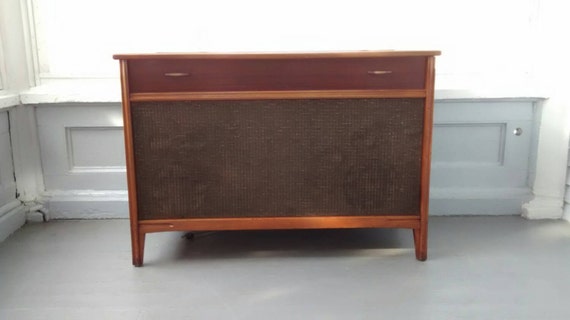 Later on, a neighbor had a garage sale where he was selling a set of speakers and a Wollensak reel-to-reel tape recorder that was of perhaps late 50's/early 60's vintage. I showed interest in buying them, and when he could not find any other buyers, he gave these things to me for free.
However, a year later, I began to discover music videos and MTV. What a lot of people don't' realize about the early 80's is that a lot of mainstream music artists had not yet discovered the marketing power of music videos and MTV. Because of this, not only did MTV actually play videos during the first three or four years of its existence, they played videos I liked. The first artists to use the medium were more of the avante garde variety, largely British ska and synth-pop acts that I'd never heard or seen before. I was quite taken by the music and styles of these artists–they seemed like a refreshing alternative to Led Zeppelin and AC/DC. For a few years, the music played on MTV was quite different from the music played on the radio.
Since I couldn't find 45 rpm singles by Depeche Mode, Fun Boy Three, the Cure and XTC, I borrowed my mother's portable cassette player which she'd used a few years before to record graduate school lectures. I put the tape recorder against the TV speaker while MTV was on, as the TV's at that time weren't sophisticated enough to have an audio line out feed, and I would make everyone in the room be quiet so that there would be no background noise.  I know I wasn't the only teenager doing this. The sound quality was not good, but I figured I'd rather listen to a good song with bad sound quality than a bad song with good sound quality.
Eventually, my parents got a VCR, and I recorded the videos and did a line feed off of those videos, though the sound quality was still not the best. Finally, my parents got me a boom box—it cost only maybe $75, but it had detachable speakers and a three-band equalizer. By this time, I'd discovered "Rock Over London" and "The Big Beat" on WXRT in Chicago and began to explore various types of alternative music. Between 1984 and 1992 I obsessively taped music—anything unique or unusual that I could find–and I created about thirty cassette tapes during that time period. I found myself caring less about the visual aesthetic of the record or tape player, though if I looked really hard, I could still see the little reels of the cassette turning around and around.
CD players came out at about this time, too, but it was a brand new format, and the early models cost hundreds of dollars. I remember a friend's parents bought one. It was an interesting unit because you could see the CD spinning around really fast under a red light. But throughout the rest of high school and college, CD players were still kind of a luxury, at least for college students. Just about everyone had a boom box with a tape player, and I also remember buying a lot of tapes by artists such as Echo and the Bunnymen, Cocteau Twins, Throwing Muses and Let's Active.
As a graduation gift in 1989 my parents bought me another boom box, this time with a CD player on top, and I began to become an obsessive collector of CDs. As the 90's progressed, I became more and more hesitant to play my tapes lest I wear them out and lose the treasure trove of music that I'd collected, While I had a few 80's compilation CD's, I knew they paled in comparison to the collection I'd managed to amass myself, and when I stopped playing these tapes, it was almost as if a period of my life had been erased.
As the boom box began to wear out, I began to slowly assemble a new component stereo system. A friend of mine moving to Hawaii sold me his turntable and his entire LP collection for $50, which gave me a significant number of Ktel albums from the 70's. Then I bought a used receiver for $75, At the end of 2000, I purchased a Gateway computer with a CD burner just in time for the Napster and MP3 craze, and I took advantage of that opportunity to download MP3's to round out my 80's collection.
However, I must say that it seems like something is missing when a computer chip plays my music. Something about the circular motion to make it seem like something is actually PLAYING the music. I've noticed that some media players will include a screen that does this nice little lightshow. But I'm not sure if that's a substitute. Sadly, most CD players won't let you watch the CD actually playing.
But recently, I bought a little radio/CD player for my desk at work, and one of the reasons I bought it was because you can actually see the disk spinning. I have a co-worker who's desktop radio/CD player does the same thing, and she told me that being able to see the CD play was part of her reason for buying it. A few other co-workers looked at my unit curiously—they'd never actually see a CD play before (it spins at about 200 rpm if I recall correctly). I was playing it really quiet so that no one else besides me could hear the music. One older co-worker asked me if the CD was rewinding. (Hmmm…).
Maybe I was hypnotized as a child by the tape and record players and maybe that's why I'm so much into collecting music. (Maybe it also explains why I like Peter, Paul & Mary.) Maybe it's why some music aficionados so zealously hold on to their vinyl LPs. When people talk about preserving music traditions such Cajun, bluegrass, and other forms of traditional folk music, maybe they should also talk about the preservation the LP and the cassette players as well, not to mention the old venerable reel-to-reel…